Intel has formally announced its entire lineup of sixth-generation Core processors, more commonly known by the codename "Skylake", at a press conference at the annual IFA trade show in Berlin. The company is calling this generation its most scalable ever, enabling the broadest yet range of devices including desktop PCs, all-in-ones, mobile workstations, laptops, 2-in-1s, tablets, small-form-factor boxes and even a new version of the tiny Intel Compute Stick. The company also claims that its new processors are optimized for Windows 10 and enable experiences and features that no other hardware can offer.
Intel is targeting potential upgraders, promising up to 2.5x better performance, 3x battery life, and 30x better integrated graphics than comparable processors from five years ago. The company is also promoting immersive experiences such as faster wake from sleep, effortless HD and 4K video playback, and always-on voice command response. The Skylake architecture includes several enhancements specifically targeted at mobile devices, such as support for sensors and cameras, wireless display output and docking, natural user interfaces, hardware-level security, and the DirectX 12 framework for gaming.
The company also says that its new processors can enable even thinner and lighter designs than before. PC and device manufacturers including Dell, HP, Lenovo, Acer, Asus are expected to have systems featuring sixth-generation Core processors out in markets very soon.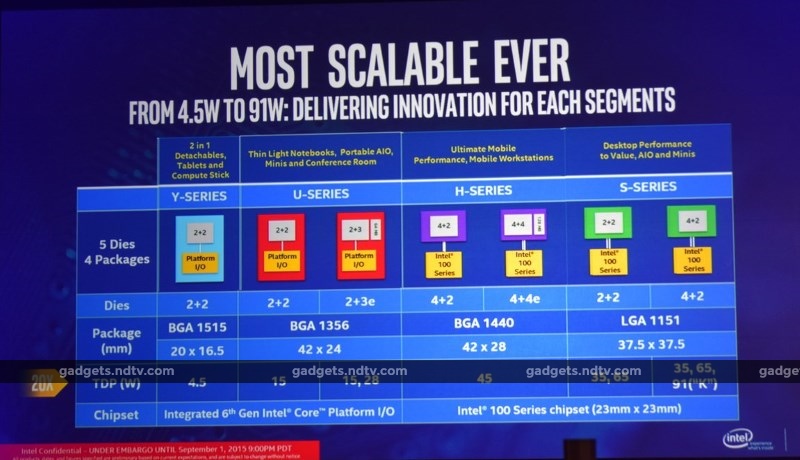 The range includes 48 processors, including the gamer-focused Core i7-6700K and Core i5-6600K desktop models introduced at last month's Gamescom show. The new offerings scale for 4.5W TDP ratings to 91W, allowing for designs ranging from ultralight fanless tablets to desktop workstations. All are fabricated on the company's 14nm process.
Intel has also introduced new brand tiers in the Core M range for ultraportable devices. The new Core m3, Core m5, and Core m7 processors will allow manufacturers to differentiate their offerings based on power and performance parameters. All Core M processors run at 4.5W and have two cores with Hyper-Threading. Maximum speed ranges from 2GHz for the Core m3-6Y30 to 2.9GHz for the Core m7-6Y75. The processors should throttle intelligently to reduce power consumption and heat output. There will also be a 6W 1.5GHz Pentium 4405Y based on the Core M (Skylake-Y) architecture.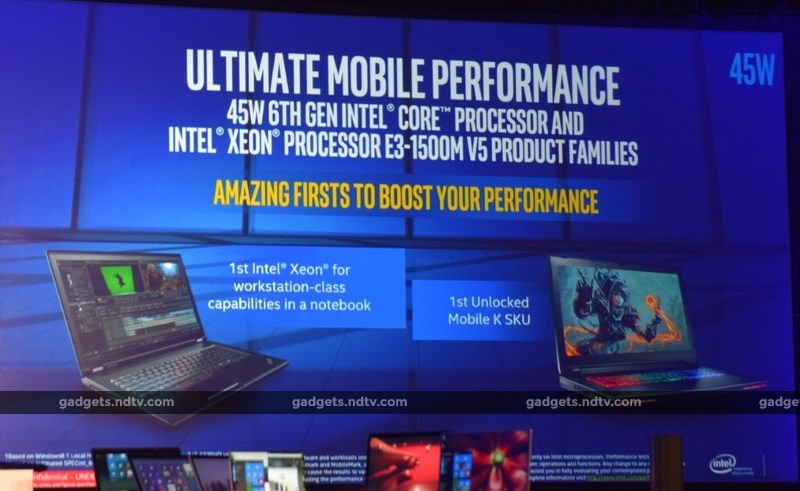 The Skylake-U series of 15W and 28W processors for laptops are also all dual-core parts with Hyper-Threading. While lower wattage models come with Intel's HD 510, HD 520 or Iris 540 graphics, the higher ones come with Iris 550. Speeds range from 2.1GHz to 3.4GHz, and DDR4 memory is supported. Quad-core models start making an appearance in the 45W H-series, which includes two mobile Xeon processors for the first time. These two, the Xeon E3-1535Mv5 and the E3-1505Mv5 will enable a new class of portable workstations. Also new is the Core i7-6820HK, Intel's first unlocked and overclockable mobile processor.
On the desktop front, Intel will offer a range of 35W and 65W models, the S-series. While all are socketed, not all will be available as boxed retail units. Processors will have either Intel HD 510 or HD 530 graphics. More launches, including Pentium and Celeron branded units as well as some with more powerful Intel Iris Pro graphics, are expected through the rest of 2015 and into 2016.