Intel
has been working on its third-generation
Thunderbolt
controllers for a while now, but in a surprise move, the company announced that Thunderbolt 3 will use the new
USB Type-C
connector and also include transportation for USB 3.1 data. Previous versions used the Mini-DisplayPort connector.
USB Type-C will allow Thunderbolt 3 to reach a wider audience, and also give the standard a chance on ultra-thin devices which only have room for the new slim, reversible connector. The standard will also support the USB Power Delivery specification which will allow devices to negotiate for up to 100W of power. Manufacturers who choose to adopt Thunderbolt 3 will be able to dispense with all other ports and standards including a charging port, and offer more versatile connectivity options than the USB Type-C standard allows for.
Specifications for the USB Type-C connector have been published and no royalty is required to use it. However, the move does not appear to have been endorsed by the USB Implementers Forum which is responsible for governing the standard. USB Type-C already allows for multiple standards such as DisplayPort to be transported as official Alternate Modes.

Thunderbolt 3 will provide up to 40Gbps of bidirectional bandwidth in the form of four PCIe 3.0 lanes, as well as the capacity to carry DisplayPort 1.2 signals. Up to two 4K displays or a single 5K display can be fed at 60Hz over a single Thunderbolt 3 link. 10Gb Ethernet transport is also supported over Thunderbolt 3, allowing easy high-speed connections between devices.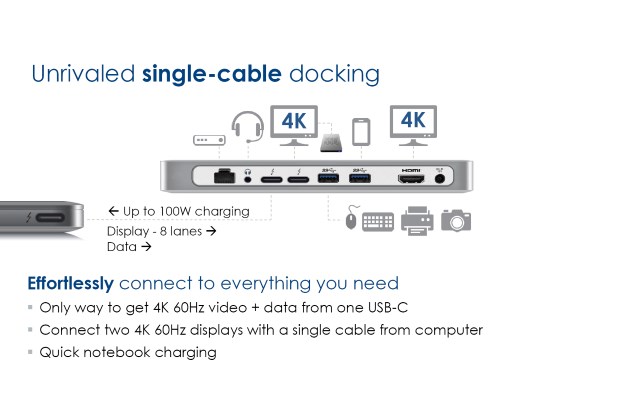 PCIe connectivity would even allow for external graphics cards, allowing smaller devices to take on new functions and capabilities when docked. Hotplugging and "surprise removal" are supported, so that users don't need to shut down or perform specific actions when transitioning from docked to mobile and vice versa.
Small devices such as ultraportable notebooks could use Thunderbolt 3 docks to break out into multiple connections for charging, networking, storage, display and more. The integrated 10Gbps USB 3.1 controller ensures backward compatibility with millions of USB devices. Thunderbolt allows for daisy-chaining, allowing for easier setup and cable management. The standard is effectively a superset of USB 3.1 and USB Type-C's capabilities.
Thunderbolt 3 will require active copper or fibre optic cables to achieve the 40Gbps peak speed at lengths of up to 2m and up to 60m respectively. Less expensive passive copper cables will enable only 20Gbps of bandwidth at up to 2m.
Products would need to be certified as Thunderbolt capable, and the first ones are expected to ship by the end of this year with volume adoption in 2016. Intel has so far struggled to create an audience for Thunderbolt outside of the professional content creation industry where it has largely supplanted FireWire.