Intel announced the first commercial applications of its revolutionary 3D XPoint non-volatile memory technology, which was announced less than a month ago. 3D XPoint, developed in collaboration with Micron, is claimed to be the most significant breakthrough in computer architecture in 25 years.
3D XPoint is Intel's name for a new type of non-volatile memory that is claimed to be as much as 1,000 times faster and 1,000 times longer lasting than current-day NAND flash, while also allowing for 10x denser storage capacities.
Intel CEO Brian Krzanich and SVP Rob Crooke announced a new brand for storage products, Intel Optane, at the end of the opening keynote at the company's annual Intel Developer Forum event in San Francisco. Optane products will be available first in the form of SSDs and then also as traditional DIMMs starting in 2016.
Optane products will primarily be aimed at the enterprise, with data centres and applications that need to process massive data sets the most obvious customers. Krzanich did not specify details of the connection standards that the upcoming SSDs and DIMMs will use. Products suitable for the consumer market, as well as embedded solutions, are likely to follow later.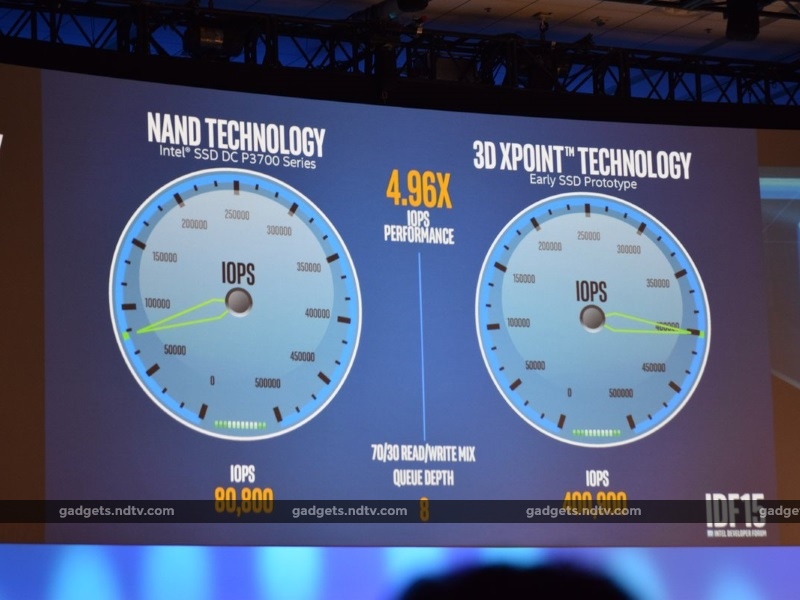 3D XPoint could eventually do away with the need for separate high-speed RAM and high-capacity permanent storage devices, resulting in a massive change to the way all kinds of computers are designed and built. A demonstration on stage showed two comparable systems running live benchmarks - the one with an Optane device exhibited up to 5.47x faster IOPS performance than one with Intel's current high-speed DC P3700 SSD.
Disclosure: Intel sponsored the correspondent's flights and hotel for the event in San Francisco.
For the latest tech news and reviews, follow Gadgets 360 on Twitter, Facebook, and Google News. For the latest videos on gadgets and tech, subscribe to our YouTube channel.
Related Stories