HP has gone public for the first time with details of a massive internal research effort, dubbed The Machine, with the aim of creating an entirely new computing architecture based on modern and emerging technology. The Machine combines the potential of several ongoing HP Labs projects, and if successful, could completely alter the landscape of computing as we know it.
The announcement was made at HP's multi-day Discover conference, during which the company unveiled several new products and discussed its strategies going forward. Reports by Bloomberg Businessweek and Extremetech, amongst others, describe The Machine as a startlingly ambitious project which could transform HP back into the kind of pioneering technology company it was at the beginning of the computer age.
The Machine was personally greenlighted by CEO Meg Whitman, after HP Labs head and CTO Martin Fink convinced her that multiple ongoing research projects could potentially be combined and focused into a game-changing new platform. According to HP, the effort is significant enough that 75 percent of HP Labs' resources are now dedicated to it.
HP is betting big on two major - and as yet largely unproven - developments to form the foundation of The Machine's new architecture. The first of these is the memristor, a potential new fundamental building block of electronic circuits that was hypothesised in the 1970s but was only proven to be viable in 2008. The second would be silicon photonics, which means the use of optical fibre interconnects in place of copper, which is used in every current microchip and circuit board today.
Memristors can be used as non-volatile memory by virtue of being able to retain their binary state without a constant source of power. Thousands or millions of memristors packed into nano-scale microchips could ultimately replace a computer's RAM, caches and hard drives thanks to their low power requirements and high speed. A memristor-based storage bank could be integrated onto a motherboard, eliminating the need to constantly swap data between a small amount of high-speed local memory and larger but far slower bulk data storage systems.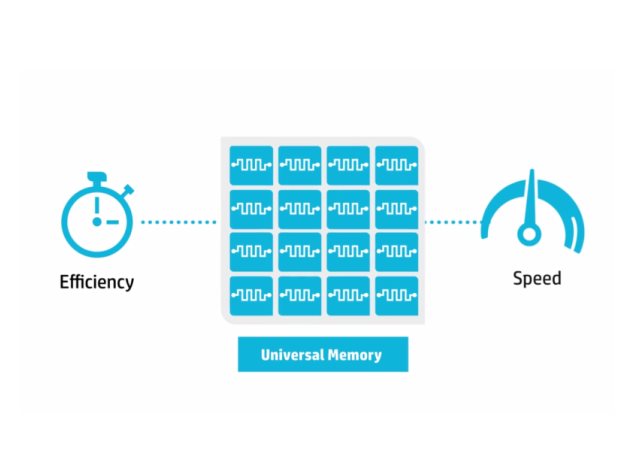 Photonics would enable completely new microprocessor designs as well as high-speed component interconnects and even new networking interfaces between multiple Machines. The technology would reduce power consumption and space requirements while also providing for massive speed increases.
Using both pieces of technology, The Machine would be able to address gigantic quantities of data, which could open up massive new avenues for computer usage involving global-scale population record references and trillions of transaction records per second. Beyond that, HP points to new possibilities such as secure storage of massive amounts of sensitive data and processing it to provide real-time insight rather than retrospective analysis.
HP isn't shy about calling The Machine a revolution, and also claims that entire data centres worth of equipment could be reduced to the size of a single current-day computer rack. Associated expenses for power, cooling and security would shrink proportionately too. Additionally, the fundamental technology could just as easily be applied to PCs, smartphones and all kinds of other devices.
Neither memristors nor photonics are ready for any form of mainstream application, which is why HP is pumping massive amounts of time, money and energy into The Machine. Memristors, in particular, were supposed to have become common by now, according to hype that ensued after HP publicised the results of its 2008 experiments. There is no fixed timeline for deliverables, but the company hopes to have something tangible ready by at least 2018.
In addition to the completely new hardware, a whole new operating system would be required. HP is also working on an open-source OS as well as adapting Linux and Android to eventually work with its new architecture. HP describes The Machine's always-available high-speed storage system as the most radical departure from current hardware and software design paradigms - current-day operating systems must wait for transactions to be processed and data to be swapped around, whereas The Machine should, in theory, be able to address any value in any part of its storage systems instantaneously.
HP was one of a few companies, along with IBM and Sun, that pioneered their own architectures in the early days of computing. A push towards lower prices and interoperability has led to most of these designs being abandoned in favour of Intel's X86 which has become the de-facto industry standard. Nearly every PC, workstation and server in the world today runs on the X86 architecture, although ARM is dominant in mobile devices and is making inroads into other areas as well thanks to a more power-friendly and cost-effective approach which has gained favour amongst device manufacturers of late.
If it pays off, HP's effort could mark a return to a form of competition that the industry as a whole abandoned a long time ago. With big data and the near-ubiquitous proliferation of personal computing devices, it might be the right time to invest in a dramatic reimagining of computing right from the ground up.