Google on Wednesday launched the second generation model of its high-end Chromebook Pixel laptop. The new and updated Chromebook Pixel 2015 will be available on newly launched Google Store. The new Google Store replaces the existing Devices section of Google Play, and the company is calling it a "new home for the latest devices made with Google."
The Google Chromebook Pixel 2015 comes in two models, sporting fifth generation Intel Core processors. The 2.2GHz Intel Core i5 processor model is priced at $999 (approximately Rs. 62,000) and the LS (Ludicrous Speed) model with a 2.4GHz Intel Core i7 processor is priced at $1,299 (approximately Rs. 81,000). Starting Tuesday, consumers in the US can purchase the new Chromebook Pixel from the new Google Store. There are no details available for its release in other regions.
"Two years ago, we introduced the first Chromebook Pixel. The idea was to bring together the best in hardware, software and design to inspire the next generation of Chromebooks," said Google on its official blog.
To remind you, the original Chromebook Pixel - Google's first high-end laptop for the Chrome OS - was launched in February 2013 starting at $1,299 (approximately Rs. 81,000).
Upfront, the Chromebook Pixel 2015 features a 12.85-inch multi-touch display with resolution of 2560x1700 pixels and a 239ppi density. The display offers 400 nit brightness and 178-degree extra-wide viewing angle.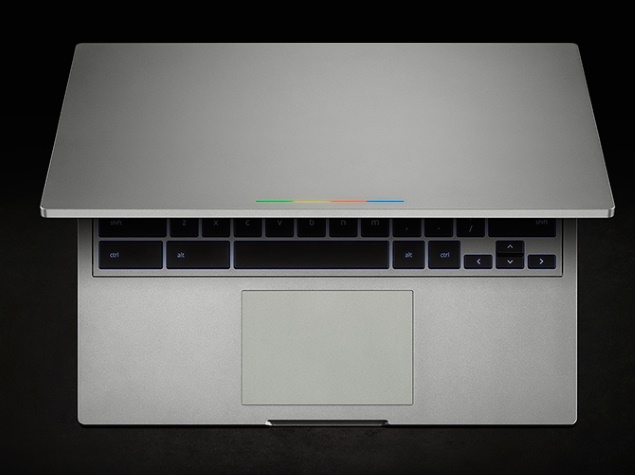 The 2.2GHz Intel Core i5 processor model Chromebook Pixel comes with 8GB RAM and 2.4GHz Core i7 processor model with 16GB of RAM. The Intel HD Graphics 5500 with support for 4K video output over DisplayPort or HDMI is standard on both variants. Consumers have the option to select from 32GB or 64GB of flash storage.
Both models of the Chromebook Pixel 2015 come with backlit "Chrome keyboard" and etched-glass trackpad. The laptop features two USB Type-C ports, with one meant for charging, apart from two USB 3.0 Type-A ports. Notably, the recently launched 12-inch MacBook also features a USB Type-C port.
Connectivity options on the new Chromebook Pixel include Intel dual-band Wireless-AC 726 802.11ac (supports a/b/g/n/ac), Bluetooth 4.0 BR/ EDR/ LE Smart Ready controller, one headphone/ mic combo jack and one SD card slot. Google didn't reveal the battery capacity but notes that it can provide up to 12 hours of battery life.
The Chromebook Pixel 2015 measures 297.7x224.55x15.3mm and weighs 1.5kgs. It features an integrated 720p HD wide-angle webcam with a blue glass lens.