Intel today announced new products for gamers, enthusiasts and overclockers, as well as a renewed focus on the desktop for home and business consumers, at the annual Game Developers' Conference in San Francisco.
New processors
The company provided a sneak peek at its 5th Generation Core processor, codenamed Broadwell, and announced that it would be available in socketed form for desktop consumers. Previous industry reports had suggested that Broadwell would be targeted at notebooks and small-form-factor PCs, and would only be available in pre-built PCs or soldered directly onto motherboards. The 5th generation core family will essentially be a die shrink of the current 4th generation Haswell architecture, and will be built using 14nm lithography.
At least some Broadwell CPUs will also be available unlocked, a feature aimed at attracting overclockers and performance enthusiasts. Iris Pro class graphics, which has previously only been available in notebook-bound versions of Intel's CPUs, will also be available on the desktop for the first time.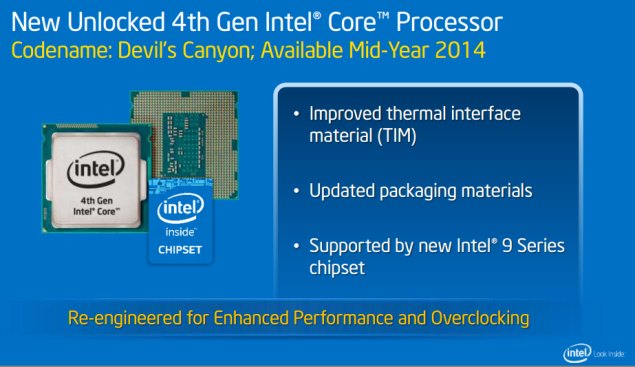 In addition, Intel also confirmed that new Extreme Edition CPUs will be available in the second half of 2014, and will be paired with motherboards based on upcoming 9-series chipsets, which will be the first desktop platform to support DDR4 RAM. The series, codenamed Haswell-E, will include the first eight-core desktop processor, and will be targeted at gamers as well as those with heavy processing requirements such as 3D graphics, animation, and video production.
An additional new product, codenamed Devil's Canyon, made its first public appearance. The new processor will be a version of the existing Haswell family, but will feature improved thermal interface material and an improved package, in a move aimed squarely at overclockers. This CPU could see a launch as early as Computex, this June.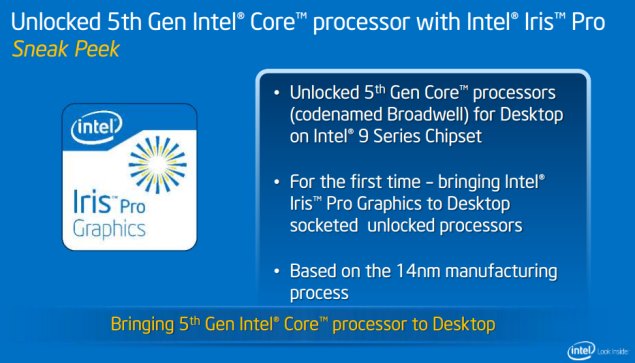 Intel's current thermal interface material, which sits between the actual processor die and the package's metal heat spreader, has been criticised for limiting overclocking in the past. Several hardware enthusiasts have gone so far as to pry the heat spreader off their Haswell CPUs and replace the TMI manually; a dangerous (and warranty voiding) process that could destroy a CPU if not carried out carefully.
The last new product announced was far more low-end; a special-edition Pentium to mark the 20th anniversary of the brand. Although now used exclusively for entry-level processors, early Pentium products are remembered fondly by enthusiasts. The upcoming Pentium Anniversary Edition, despite being a low-end part, will feature unlocked multipliers and will have Intel's Quick Sync video encoding block enabled.
All-in-one and small-form-factor announcements
Beyond new enthusiast products, Intel also outlined its vision for desktop computing in the near future. The company plans to reignite the family PC market with touch-enabled all-in-ones which have laptop-like batteries so they can be relocated within a house without being turned off.
The new portable all-in-one specification includes Intel's 3D RealSense camera and a microphone array to enable what Intel describes as "compelling new user experiences". Twelve new complementary multi-touch enabled software titles designed for multi-user scenarios such as family activities were also announced.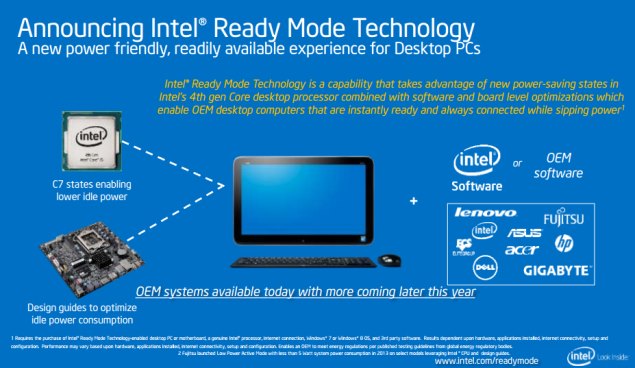 To further increase the appeal of a portable AIO family PC, Intel has introduced what it calls Ready Mode. This allows a PC to enter a low-power mode and remain nearly idle while still being able to stream media, act as a server or receive VoIP calls. A PC in Ready Mode would also be able to detect other devices and sync data with them, for example backing up photos on a mobile device when a user enters wireless range.
Intel will also focus on small-form-factor PCs, for businesses as well as new application areas where there is no need for traditional tower cabinets thanks to greater hardware integration and the elimination of legacy standards. Potential applications include Steamboxes, vehicles, shops, and industrial environments.