Dell at CES 2015 on Tuesday announced its all new XPS and Alienware laptops for 2015.
"The new products announced today raise the bar in every category, with style, substance and software solutions customers can only get from Dell," said Sam Burd, Vice President, Client Solutions Product Group, Dell. "Whether you are a gamer, always on the go or buying a laptop or desktop for everyday use, Dell is building in the features and functionality customers care about."
The new Dell XPS laptops come in two screen sizes, 13-inch and 15-inch, and are dubbed the Dell XPS 13 and Dell XPS 15.
The Dell XPS 13 is touted as the "smallest 13-inch laptop on the planet" by the company because of its compact form factor and lightweight design at a mere 1.17kg.
The new 13-inch Dell XPS laptop also features a edge-to-edge 'infinity' display with bezels of 5.2mm. The company says that it's "the world's first virtually borderless infinity display", with a 13-inch display fit into the size of a typical 11-inch laptop.
The XPS 13, with Windows 8.1, comes with an optional 13-inch UltraSharp Quad-HD+ infinity (3200x1800 pixels) touch display, apart from the standard 1920x1080 option.
There's also the Dell XPS 15, with its 15-inch UltraSharp 4K Ultra-HD touch display, which according to the company is "the highest resolution panel available on a 15-inch laptop today" - though it has not specified the resolution further than saying the display contains 8 million pixels.

Both the XPS 13 and XPS 15 come with the fifth-generation Intel Broadwell U Core processors, from the 2.1GHz Core i3 to 3.2GHz Core i7 CPUs. Storage options include 128GB, 256GB or 512GB SSD, with a choice of 4GB or 8GB of RAM.
The Dell XPS 13 is available starting Tuesday from $799 (approximately Rs. 50,000), while the Dell XPS 15 will be launched soon from $2,349 (approximately Rs. 1.48 lakhs).
Dell's popular gaming PC brand, Alienware, has also got two new thinner and lighter laptops - the Alienware 15 and Alienware 17 laptops. The new models use elements such as copper, aluminium and carbon-fibre composites for the outer shell.
Both the 15-inch and 17-inch Alienware gaming laptops feature Intel Core processors, AMD Radeon and Nvidia GeForce GPUs, and are also compatible with the Alienware Graphics Amplifier (sold separately). Dell says that the Intel Core i7 models will even automatically overclock when you plug your laptop into the Alienware Graphics Amplifier.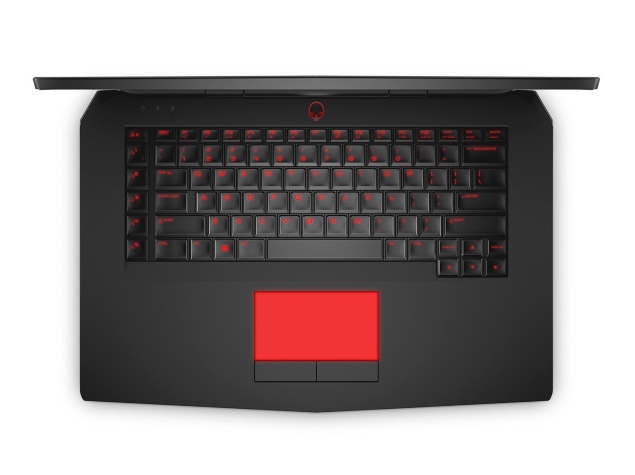 The 15-inch Alienware comes with an optional 4K display, but there is no 4K option for the 17-inch variant. The Alienware 15 weighs in at roughly 3.2kg, making it the lightest 15-inch Alienware laptop made by the company.
The Alienware 15 is available from Tuesday starting $1,199 (approximately Rs. 76,000), while the Alienware 17 starts from $1,499 (approximately Rs. 95,000).