Dell has finally joined the
Chromebook
bandwagon and launched its first ChromeOS based offering, the Chromebook 11.
The company has announced that the Dell Chromebook 11 will be priced at $300 and will be available in UK and US. The Dell Chromebook 11 will come in two configurations - with 4GB RAM, which will be available in January 2014; and with 2GB RAM, which will be available during the first quarter of 2014.
The company notes that the Dell Chromebook 11 is education -focused and will join company's next generation learning solutions for schools and universities.
The Dell Chromebook 11 is powered by Intel's fourth generation Celeron 2955U processor clocked at 1.4GHz with Intel HD Graphics. It sports an 11.6-inch edge-to-edge display with a resolution of 1366x768. The Dell Chromebook 11 can deliver up to 10 hours of battery life and comes with 16GB SSD with 8.4 seconds boot time. It also packs a front-facing 720p webcam. Connectivity options on the Dell Chromebook 11 include Wi-Fi 802.11 a/b/g/n, USB 3.0 ports, Bluetooth 4.0 and an HDMI port. It weighs around 1.3 kilograms.
Dell has also preloaded the Chromebook 11 with Dell Wyse PocketCloud app, which gives access to content and applications across a personal cloud of devices. PocketCloud works with mobile devices, tablets, PCs, laptops and Chromebooks. The PocketCloud app will also be available for download in the Google Chrome Web Store in January 2014.
The Dell Chromebook 11 also includes Google Cloud Print app with which consumers can print documents, photos or emails using Google Docs and other Chrome apps. Much like other Chromebooks, it also includes preloaded Google products like Search, Gmail, YouTube, and Hangouts.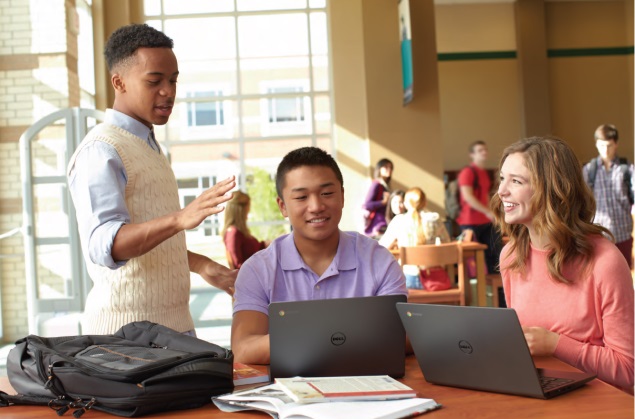 Commenting on the announcement, Neil Hand, vice president, Tablet and Performance PC Group, Dell said, "Dell believes that when implemented successfully, teachers, students and technology work together to enrich the learning process. The Dell Chromebook 11 will give schools and districts another tool to consider as they plan their digital content and curriculum strategies, and its competitive pricing will help open access to technology for more students around the country."
Caesar Sengupta, vice president of product management, Google said, "Dell is no stranger to designing and building great computers, particularly in education. Adding Dell's first Chromebook to our stable of devices built for the classroom is a big milestone, and Dell has been a great partner in this effort. The Dell Chromebook 11 with Google Apps for Education will bring exciting new possibilities for learning and collaboration inside and outside the classroom."
Dell Chromebook 11 key specifications
11.6-inch (1366x768) display
Intel's fourth generation Celeron 2955U processor clocked at 1.4GHz
4GB/ 2GB of RAM
16GB Solid State Drive
Built-in dual band Wi-Fi 802.11 a/b/g/n
720p webcam
1x USB 3.0, 1x USB 2.0
HDMI Port Bluetooth 4.0 Compatible
1.3 kilogram
Up to 10 hours of active use