USB Type-C is still in its nascent stages, what with its current presence on a handful of smartphones and notebooks. Asus clearly thinks it has seen the future, and it's betting on it with a USB Type-C upgrade to its portable monitor in the MB169C+ first showcased at CES 2016 in Las Vegas.
Asus is calling it the world's first companion monitor with USB Type-C, and it's hard to argue when there are such few players in the market. The MB169C+ is a 15.6-inch portable display with full-HD resolution to boot, and does away with the TN panel on its earlier model for IPS which should definitely help with improving colour accuracy and increasing viewing angles.
The latter should be helpful if your friends decide to crowd around for the latest Adele video, although we feel the addition of stereo speakers couldn't have hurt. To be fair, it would have certainly affected the ultra-slim profile of MB169C+ which comes in at a thickness of 8.5mm and weighs just 800 grams.
Speaking to The Verge, Asus said the monitor will work with essentially any USB Type-C device, starting from one of the earliest ones in the Nokia N1 tablet, the 2015 Apple MacBook, and the second iteration of Google's Chromebook Pixel.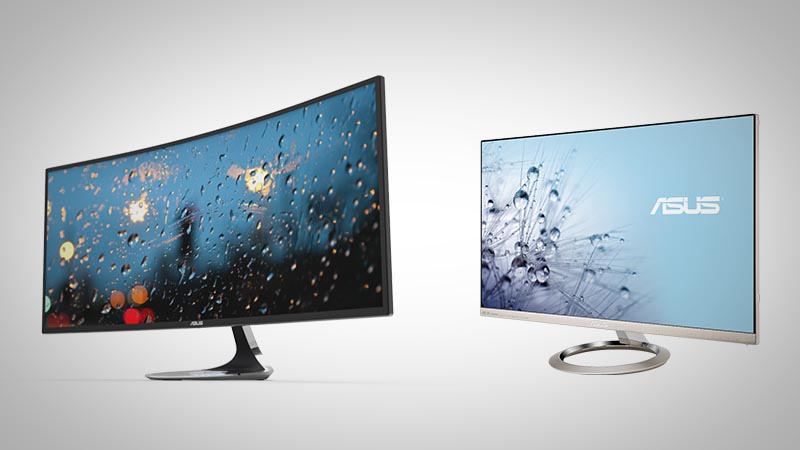 The Taiwanese manufacturer also dropped two new desktop displays in its Designo lineup at CES: the curved 34-inch MX Series and 4K 27-inch MX27UQ. The former has an ultra-wide QHD resolution of 3840x1440 pixel with an aspect ratio of 21:9. The latter has a standard 4K screen and comes in a gold finish. Both incorporate IPS panels and speakers that are developed with Bang and Olufsen technology. To top it off, the base of the curved monitor can act as a wireless charger for your smartphone.
There isn't any word from Asus on how much any of the three will cost or when they will be available.
For the latest tech news and reviews, follow Gadgets 360 on Twitter, Facebook, and Google News. For the latest videos on gadgets and tech, subscribe to our YouTube channel.
Related Stories