At the ongoing Computex trade show in Taipei, Asus has unveiled a new Zenbook and a triumvirate of hybrid laptops in its Transformer Book series. The Asus Zenbook NX500 is an ultrabook with a 4K display panel. First of the Transformer Book series of laptops is the Flip, which has a hinge that enables the screen to be set at any angle between zero and 360 degrees. On the other hand, the Transformer Book V is a Windows 2-in-1 laptop with a detachable Android phone. Finally, the Transformer Book T300 Chi, which the company claims is the thinnest 12.5-inch detachable tablet.
Apart from the powerful 4K display (3,840 x 2,160), the Asus Zenbook NX500 ultrabook has a 15.6-inch screen. Under the hood is an Intel Core i7 processor, discrete NVIDIA GTX 850 graphics and up to 16GB of RAM. It measures just 19mm thick and weighs 2.2kg. Moreover, Zenbook NX500 has titanium-film speakers and SonicMaster audio technology, which incorporates a combination of ICEpower, and Bang and Olufsen technologies.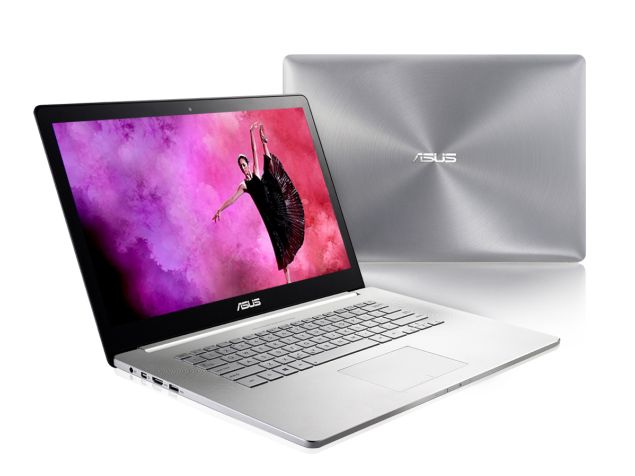 Meanwhile, Transformer Book Flip, which can be flipped and set at any angle between zero and 360 degrees, is available in three screen sizes available - 13.3-inch, 14.0-inch and 15.6-inch. And, the Book Flip is powered by up to Intel Core i7 processors, and up to Nvidia GeForce GT840M discrete graphics. It also features a full-HD (1920x1080) touchscreen. Asus has incorporated 6mm-diameter actuators, which are more than the 9mm industry standard. The company claims that this makes the touchscreen twice as more sensitive.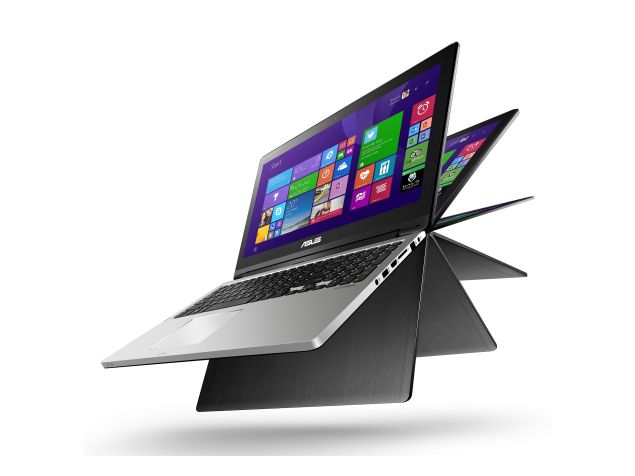 The Asus Transformer Book V is a Windows 2-in-1 laptop with a detachable Android phone that can function in five different modes. Sounds confusing? Let us clear it for you. Firstly, there is the 12.5-inch tablet/laptop hybrid with a detachable keyboard. It runs Windows 8.1 on Intel Core architecture. The 5-inch Android 4.4 (Kitkat) phone runs a 64-bit Intel Atom quad-core processor with LTE. Docking the phone displays Android interface displayed within Windows 8, and it can also be switched to a full Android 4.4 (KitKat) tablet interface. As a tablet/ laptop hybrid, the Transformer Book V can run both Windows 8.1 and the latest Android.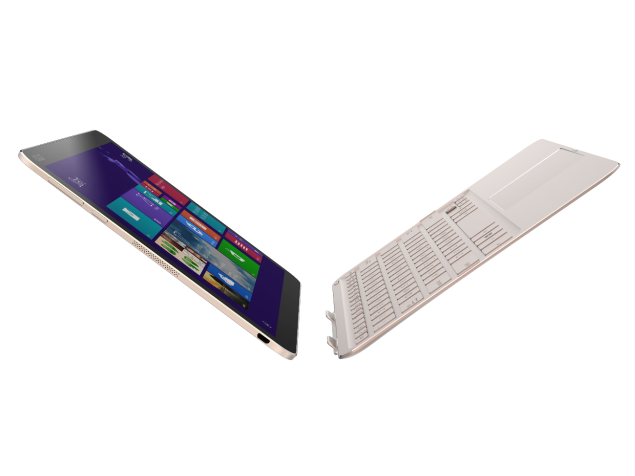 Featuring a 12.5-inch detachable tablet, the Transformer Book T300 Chi laptop features LTE support and is equipped with a 2560 x 1440 WQHD IPS display and has a slim 7.3mm frame. It is powered by Intel processors. It also has what Asus calls a 'fanless 2-in-1 design' which basically means that the hybrid device doesn't have a fan.
The launch dates and pricing for all the devices have not been revealed yet by Asus and the company says prices will be different for different regions.