Asus has launched a slew of Windows 8 products in India including Asus Taichi, which is a hybrid between ultrabook and tablet. The other products launched are Asus VivoTab RT TF600TG tablet and two notebooks - VivoBooks F202E and VivoBooks S400.
Asus Taichi is a 13.3-inch dual LED-backlit Windows 8 Pro ultrabook that comes with a TFT LCD display. It is powered by Intel Core i7-3517M processor with 4GB of RAM. The other features include 256GB SATA3 SSD, dual-band Wi-Fi, Bluetooth 4.0 and Stylus Pen.
Asus Taichi comes with a mirror mode, which shows the same image on both back-to-back screens. It comes with a price tag of Rs. 1,39,999.
The Taiwanese maker has also launched Asus VivoBook F202E which sports a 11.6-inch LED Backlight HD screen with a resolution of 1366X768 and is powered by Intel Core i3- 3217U. The notebook has a 3.6mm panel and weighs 1.3kg. It comes with 4GB of RAM and 500GB of internal storage. For connectivity, there is USB 3.0 WLAN 802.11b/g/n & Bluetooth 4.0. The company claims that this notebook gives about 5 hours of battery backup. Asus VivoBook F202E is available in the market for Rs. 39,999.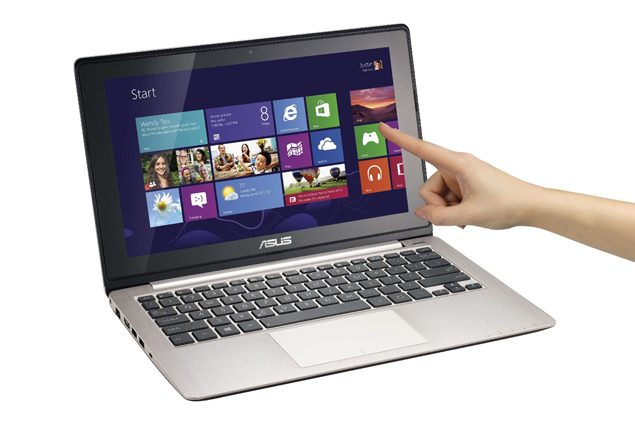 Asus VivoBook S400 has a 14-inch LED Backlight HD screen, a capacitive touch panel and runs on Intel Core i7-3517U with 4 GB RAM. Priced at Rs. 59,999 this notebook comes with a 500 GB hard disk.
Both the Asus VivoBook will run on Windows 8 Pro.
Asus Vivo Tab RT sports a design similar to Asus Transformer. It will retail with its own mobile dock that also has a QWERTY keyboard, track pad, USB port and built-in battery. The tablet sports a 10.1-inch screen, Nvidia Tegra3 processor, 2GB of RAM and 64 GB internal storage. It will be available for Rs. 61,999 and come pre-loaded with Windows 8 RT operating System.
Commenting on the launch, Alex Huang, Managing Director, System Business Group, ASUS India says, "We are ecstatic to announce Windows 8 launch with huge variety of touch enabled models in India. These models have the superlative technology with simple package yet the most essential features to offer the state-of-the-art technology to the Indian market. We intend to surpass the 'touch future' of IT industry by launching Asus Taichi & Asus VivoBook. We are assertive that our Windows 8 line-up will touch customers' heart in terms of incredible product, incredible design, incredible quality and incredible service".

Specs of TAICHI31-CX010P
13.3" Dual LED-backlit TFT LCD display Full HD
Intel Core i7-3517M (1.9G, 4M)
4GB DDR3 1600
256GB SATA3 SSD
Windows 8 Pro
4 Cell battery
Bluetooth 4.0, 2 USB 3.0 ports and HDMI
Rs. 1,39,999
Specs of F202E-CT148H
11.6" LED Backlight HD Touch screen
Intel Chief River i3-3217 (1.8G, 3M)
4G DDR3 1333
500 GB 5400rpm + 24GB SSD
Windows 8
2 cell battery
Rs. 39,999
Specs of S400CA-CA028H
14" HD Touch screen, Glare
Intel Chief River i7-3517M (1.9G, 4M)
4G DDR3 1600
500GB 5400rpm + 24GB SSD
Windows 8
3 Cell battery
Rs. 59,999
Specs of Asus Vivo Tab RT TF600TG
10.1" HD Glare with capacitive touch/multi-touch
Nvidia Tegra3
2G DDR3
64G EMMC
Windows 8 RT
2 cell battery
3G & GPS Embedded
Rs. 61,999