Apple has unveiled new generation MacBook Air notebooks with big gains in battery life. While the 13-inch MacBook Air will now give a battery life of 12 hours instead of the 7 hours earlier, the 11-inch MacBook Air would last for 9 hours instead of the 5 hours in the previous generation.
The new machines will be powered by the latest fourth generation Intel Core i5 and i7 processors. The processors codenamed Haswell were recently unveiled at Computex. With Intel HD Graphics 5000 onboard Apple claims that the new MacBook Airs would offer up to 40 percent faster graphics performance.
The MacBook Air now comes with support for 802.11ac Wi-Fi, that supports speeds up to 1.3Gbps, three times the speeds of 802.11n Wi-Fi.
While the base price of the devices stays the same, Apple has doubled the storage capacity onboard. Where the 11-inch and 13-inch MacBook Air models previously came with 64GB standard, it now offers 128GB of flash storage. Both the variants now come in the option of a 128GB and a 256GB model. The latter is configurable to up to 512GB. The devices come with 4GB RAM that is upgradable to up to 8GB. Adding to the larger storage capacity, Apple claims that the new flash storage of the devices provides speeds up to 45 percent faster than the previous generation and nine times faster than traditional hard drives.
The new Air also comes with a FaceTime HD camera with 720p video resolution, dual microphones, a Thunderbolt port and two USB 3.0 ports.
The 11-inch MacBook Air is priced at Rs. 67,900 for the base model and Rs. 81,900 for the 256GB version. The bigger 13-inch MacBook Air will be for sale at Rs. 74,900 for the base model and Rs. 88,900 for the 256GB one.
At its World Wide Developers' Conference, Apple also unveiled the new Mac Pro and its latest OS X Mavericks. Along with these, the Cupertino giant also showcased the revamped version of iOS.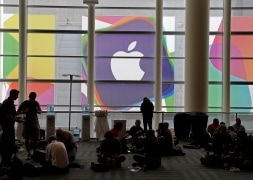 iOS 7 and other Apple launches in pics
For the latest tech news and reviews, follow Gadgets 360 on Twitter, Facebook, and Google News. For the latest videos on gadgets and tech, subscribe to our YouTube channel.
Related Stories