AMD has made the first public announcement of its next-generation APUs (Accelerated Processing Units), codenamed Carizzo and Carizzo-L. At the company's Future of Compute press event in Singapore, Joe Macri, Corporate Vice President and Product CTO announced the Carrizo family for the first half of 2015. Products based on it are expected to be available in markets by mid-2015. Carizzo is intended to be a high-performance platform and will feature AMD's new x86 'Excavator' core with an integrated next-generation Radeon GPU and south bridge logic on the same die.
AMD
promises much improved power efficiency as well as support for 4K UHD video, AMD's own Mantle API and DirectX 12 to allow developers to tap into the processor's full graphics capabilities. Carrizo-L will be aimed at more mainstream devices and will be based on the existing Puma+ CPU and Radeon R-series graphics. All Carrizo APUs will also feature security hardware compliant with ARM Trust Zone for sensitive business as well as personal data transactions.
AMD's APU strategy will take a leap forward with Carrizo, which will be a true System-on-a-Chip (SoC) design. The Heterogeneous System Architecture (HSA) unifies a CPU, which is traditionally designed to change directions quickly and respond to short operations in sequence, with a GPU, which is usually designed for greater throughput when it comes to repetitive tasks that can be performed in parallel.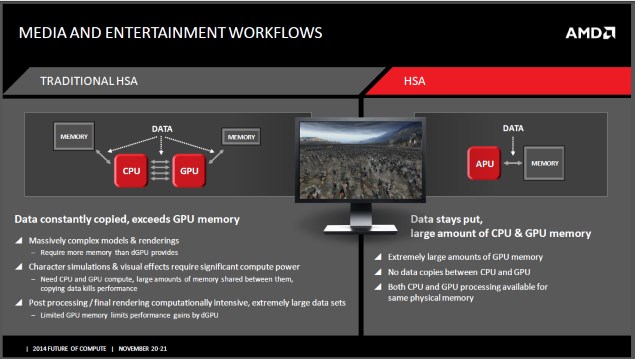 Carrizo will not just throw two separate logic blocks onto a package, but integrate them into the same processor die. The lynchpin of this approach is coherent unified memory, which allows both the CPU and GPU to access data as and when required in one combined memory pool, rather than wasting time sending it to where it is needed. Unified memory also has the scope to greatly simplify workflows and reduce equipment costs in data-intensive workstation scenarios such as oil and gas exploration, 3D manufacturing design, and content creation.
Carrizo is also expected to widen the range of form factors in which AMD processors can be found thanks to improved power efficiency and significant gains in battery life. AMD hopes that HSA-based devices will enable natural UIs such as gestures and voice recognition to become more widely used. Augmented reality and virtual reality applications would also get a boost. The company also anticipates smarter and more secure utilization of cloud services, as operations currently offloaded to remote servers for processing could be handled locally.
Disclosure: AMD sponsored the correspondent's flights and hotel for the event in Singapore.
For the latest tech news and reviews, follow Gadgets 360 on Twitter, Facebook, and Google News. For the latest videos on gadgets and tech, subscribe to our YouTube channel.
Related Stories