AMD recently concluded an Analyst Day event in New York City, during which it laid out plans for its CPU, APU and GPU businesses over the next two years. Central to the new roadmap is the Zen architecture, first announced last year, which will be the foundation for a common product framework going forward. AMD hopes to regain lost ground in the high-performance desktop CPU space with Zen, which will first debut in a high-end part in 2016.
Zen will be a totally new design, not based on any existing architecture. The most important feature is a move away from the current-generation's "cluster" approach which attempted to apply shared resources between pairs of processor cores, to a simpler design more like Intel's simultaneous multithreading approach. AMD's slides also reveal a new "high-bandwidth, low latency cache system" although further details were not disclosed.
AMD is projecting a 40 percent performance-per-clock increase and a 25x energy efficiency improvement, which it hopes will help it compete with Intel after many years as a distant runner-up. Zen will support both DDR4 and DDR3 RAM, and will introduce a new socket which will be common to high-end CPUs and lower-performance APUs (Accelerated Processing Units, with integrated Radeon graphics).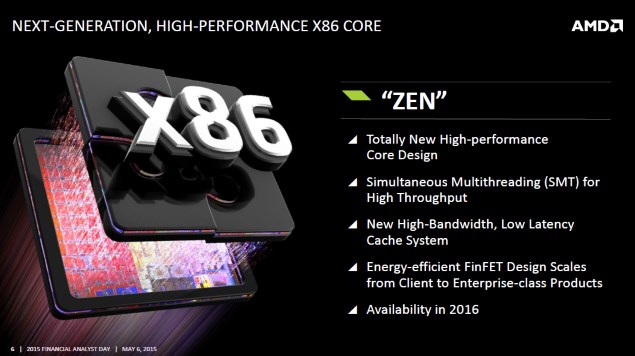 Initial Zen CPUs will be fabricated on an unspecified FinFET process. The company did not confirm whether Globalfoundries would continue to serve as its manufacturing partner, but the timing would indicate that 14nm is the target process node.
(Also see: Tech 101: What is a CPU? Part 1 - Logical Units, Instruction Sets, Microarchitectures and Tech 101: What is a CPU? Part 2 - 64-bit, Core Counts and Clock Speeds)
AMD also announced a tentative roadmap for upcoming GPUs, the first of which will be a high-end model with 3D stacked HBM (High-Bandwidth Memory) - an industry first. Thought to be named the Radoeon R9-390, this new GPU will support DirectX 12, LiquidVR and FreeSync, and should launch within the second quarter of 2015. Going forward, second-generation HBM GPUs will use a new, unspecified FinFET manufacturing process and are expected to double performance-per-watt in 2016.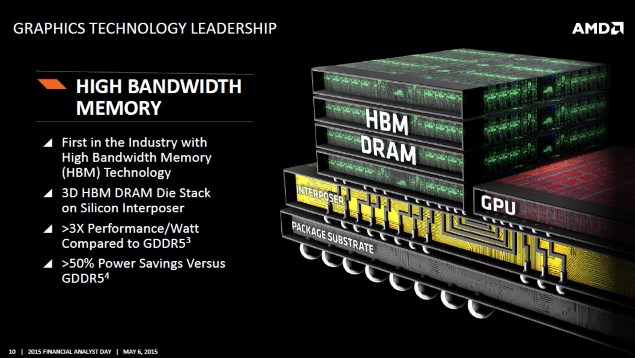 Meanwhile, The Tech Report points out that specifications for Radeon R9-3xx and R7-3xx cards which have appeared on AMD's website strongly indicate that most of the lineup will consist of rebranded older cards, or slight variations of existing GPUs.
Overall, AMD says its new, sharper focus will be on gaming, immersive platforms and datacentre/infrastructure as major growth areas and will consciously stay out of the ultra-low-power smartphone and embedded/IoT markets. Custom and semi-custom designs, for example the processors in game consoles, will also be a continuing focus area.
Following its announcement earlier this year that it would abandon the dense server market that it attempted to get into by purchasing SeaMicro, AMD also clarified that it would continue to concentrate primarily on x86. The company has previously stated that it has no intention of competing with Qualcomm, MediaTek, and Intel in the low-margin smartphone, tablet, and IoT markets. ARM development will continue, though Zen will take priority. Anandtech has noted that Project Skybridge, which was AMD's plan to create a unified platform for ARM and X86 processors, is likely to have been shelved as a result of low demand and a new push to concentrate on Zen.