Semiconductor manufacturer has launched a new graphics processor targeted at application that run on small form factor PCs or work in harsh environments and mission critical applications. The AMD Embedded Radeon E8860 GPU, codenamed Adelaar, is designed to advance the visual and parallel processing capabilities of embedded applications. The graphics processor will be available via leading board manufacturers and solution providers in the first quarter of this year.
The E8860 is based on AMD's Graphics Core Next architecture, which powers its desktop and mobile gaming GPUs. The GPU and 2GB of GDDR5 video RAM are combined on the same chip package, which improves latency and performance figures. Up to six monitors can be connected using the DisplayPort connection standard.
AMD claims that performance is more than double that of its predecessor, without any increase in thermal dissipation. The E8860 could see use in a variety of industries handling workloads such as terrain and weather mapping, facial and gesture recognition and biometric and DNA analysis. The GPU is not intended for consumer desktop PCs and laptops, but could find its way into some OEM designs.
"With more than double the performance in the same power envelope as its predecessor, the AMD E8860 GPU delivers 3D and 4K graphics to embedded gaming machines, digital signage, medical imaging, commercial aerospace, conventional military, and other embedded applications," it said in a release. Designed in multi-chip module packaging, the AMD E8860 GPU comes with an industry leading seven-year supply guarantee and will be available as an add-in-board with either mobile PCI Express module (MXM) or PCI Express interface, it added.
"Demand for rich, vibrant graphics and enhanced parallel compute capabilities in embedded systems is greater than ever before and is expected to continue to grow as we enter the Surround Computing era," AMD Corporate VP and General Manager (Embedded Solutions) Scott Aylor said. Legacy graphics no longer meet the needs of embedded solutions for today and tomorrow, he added. "With unprecedented performance-per-watt, the AMD E8860 GPU addresses the need to drive multi-displays, 3D and 4K content and GPGPU compute across small form factors, harsh environments and mission critical applications," Aylor said.
The firm said AMD E8860-based solutions for digital signage, conventional military, commercial aerospace, medical imaging and embedded gaming machines will be available from Curtiss-Wright Defense Solutions, Quixant, SAPPHIRE, Tech Source, TUL, WOLF Industrial Systems, and other leading board manufacturers and solution providers beginning in Q1 2014.
Written with inputs from PTI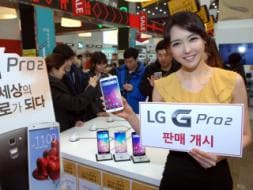 MWC 2014 in pictures