AMD
has announced a few new products to flesh out its portfolio in the short term, before the expected rollout of its new Zen architecture and AM4 platform in late 2016. The new products announced today include the high-end A10-7860K and mid-range A6-7470K APUs and the entry-level Athlon X4 845 CPU. The new products come with quiet thermal solutions that incorporate some of the features of the ultra-silent Wraith cooler announced earlier at
CES 2016
.
The A10-7860K slots in below the existing A10-7870K and the upcoming A10-7890K APUs. Its most interesting feature is a drop to 65W TDP compared to 95W. Interestingly, AMD's new 95W Quiet Thermal Solution heatsink comes in the box. This APU uses the new Godavari architecture, which is an update to the previous Kaveri architecture used by other models in the lineup.
It has four "Steamroller" cores running at between 3.6GHz and 4GHz, and integrated Radeon R7-class graphics with eight execution units running at 757MHz. There's 4MB of L2 cache and 16 PCIe Gen 3 lanes for other components. AMD has priced it at $119.99 (approximately Rs. 8,177) and is targeting it at small form-factor builds, and gamers who want to push light games at 1080p without a discrete graphics card.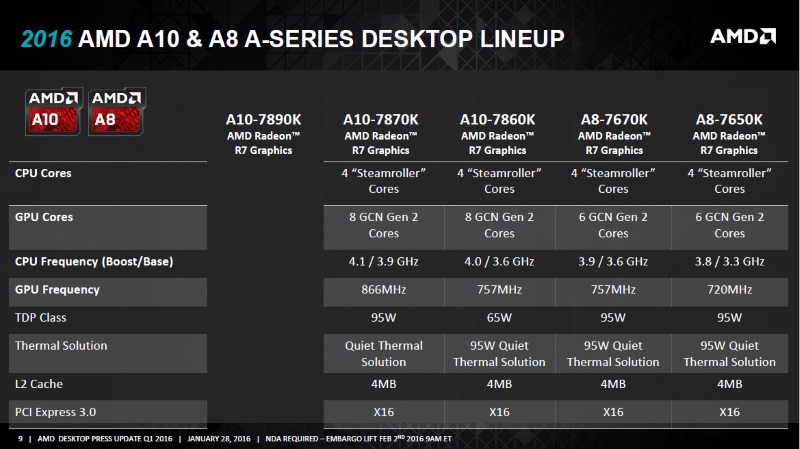 Lower down the stack, the new A6-7470K has two "Steamroller" cores that run at 3.7GHz and can turbo up to 4GHz, in addition to four Radeon R5-class GPU execution units clocked at 800MHz. There's still 4MB of L2 cache memory and 16 PCIe Gen 3 lanes. You get a new 65W heatsink fan which is also billed to be quiet.
The new Athlon CPU, which ditches integrated graphics, is built around two of AMD's new "Excavator" cores at a base clock of 3.5GHz which can turbo up to 3.8GHz when needed. This is also a 65W part and comes with the 95W Quiet Thermal Solution. You get only 2MB of L2 cache and only 8 PCIe lanes which could limit expansion, though they are of the high-speed Gen 3 variety. AMD's suggested price is $70 (approximately Rs. 4,769) which puts it firmly in entry-level territory.
Rounding out the announcements are a slew of new motherboards from Asus, Gigabyte, MSI and ASRock, which include USB 3.1 Gen 2 (10Gbps) Type-A or Type-C ports. Many also feature M.2 SSD slots, though AMD has labelled these "M.2 SATA SSD connectors" which casts doubt on support for the must faster native NVMe standard. Most of the motherboards are available immediately, but some will arrive later in Q1 2016.
AMD had earlier this year confirmed plans for new Summit Ridge CPUs and Bristol Ridge APUs which will arrive with a unified platform called AM4, but use existing architectures before the highly anticipated Zen is ready. The struggling company also announced a new Radeon graphics architecture called Polaris, and showed off its new high-end Wraith cooler which will ship with select APUs. The Wraith promises better cooling and silent operation. The Wraith presently ships only with the FX8370 processor, with no increase in its price.