AMD has announced that BlueStacks' dual-OS Android solution, which enables users to run Android on AMD-powered Windows PCs, will hit retail stores in the second half of 2014.
"AMD and BlueStacks' joint solution brings the complete Google Android operating system (OS) experience to select Microsoft Windows-based AMD-based tablets, 2-in-1s, notebooks and desktops in select retail stores," AMD said in a release.
The virtualised Android solution, unveiled at CES 2014 earlier this year, will allow consumers to easily access both Windows and Android environments side-by-side on select AMD-based PCs. AMD claims that BlueStacks effectively bridges the divide between mobile and PC. The retail solution will not require any additional drivers or extensions to be installed, and will work out-of-the-box for retail customers.
The retail version of BlueStacks running on a Windows PC offers a familiar Android user interface, including settings, configuration and customisation controls, plus the ability to run Android apps within a window or full-screen. Apps will be able to directly access the device's AMD graphics processor as well as the device's built-in cameras, accelerometer, gyroscope and other sensors.
The retail solution won't require the user to disengage from one OS before using another. BlueStacks supports hundreds of thousands of Android apps which are available from various Android app stores. Synchronisation between apps being run on the user's standalone Android devices is also supported, and Android apps can access and operate with files stored within the Windows file system.
PC buyers will see devices with the AMD-BlueStacks feature when buying an AMD-based PC at several key retail partners across Europe, the Middle East and Africa (EMEA) later this year.
"The ability to span two OS ecosystems gives end users access to both Windows and Android apps, but the key is providing for the seamless integration of entertainment and productivity across those ecosystems," AMD corporate VP Product Management Steve Belt said.
"Android-Ready PCs are the future. With BlueStacks technology, consumers can turn their AMD Windows-based PC into an Android-ready device and enjoy mobile content, games and apps on their PC and sync with their mobile phone," said Rosen Sharma, CEO, BlueStacks.
Written with inputs from PTI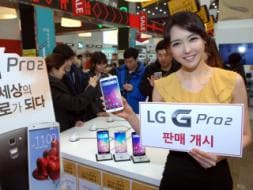 MWC 2014 in pictures