Microsoft appears to be working on restoring the Start menu to the latest version of it Windows operating system, if the latest leaked screenshots obtained by Myce are to be given credence.
The screenshots, which claimed to be of a broad update codenamed 'Threshold', show a two-column Start menu with Windows 8 'Modern' apps on the right and a blank white column on the left. The blank column may be home to recently opened apps, similar to the layout in Windows 7.
Although Microsoft's revamped Start menu may only be available next year, you can easily get a version of it in Windows 8 today. To do that, read our tutorial on how to restore the Start Menu in Windows 8.
(Also see: How to Get Start Button in Windows 8)
A second leaked screenshot shows Windows Store running in windowed mode, which is a departure from the full-screen only layout of the store for Modern Windows apps. With the Windows 8.1 update, Microsoft had added minimise and close buttons to these apps, but the ability to run them in windowed mode is still missing. Although the screenshots have the labelling "Windows 8.1 Pro" on the bottom-right, that is likely to be changed when Microsoft finalises the name of the OS.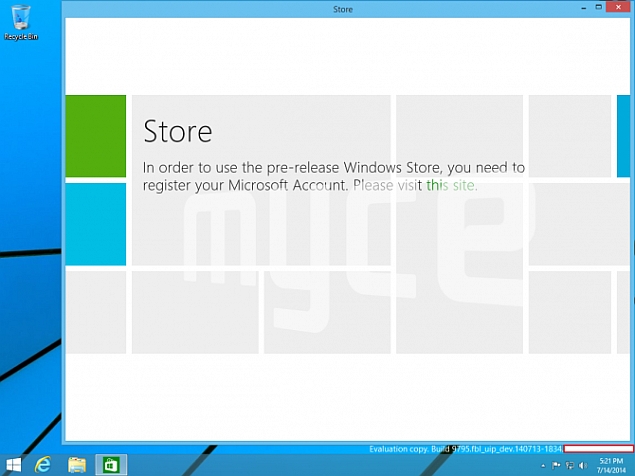 The company had removed the Start menu from the operating system with the launch of Windows 8, and introducing what was then called the Metro UI style of apps - brought in from Windows Phone 7. The OS was a big departure from previous iterations of Windows, but if these leaked screenshots are to be believed, Microsoft appears to be continuing its efforts of approaching a middle ground.
It could mean that the company may decide to let users run Modern Windows apps in windowed mode, as well as a number of other changes that could better integrate both the desktop and Modern Windows modes. This will make Windows 8 style apps easier to use with mice and keyboards - a goal Microsoft has already been focusing on
For the latest tech news and reviews, follow Gadgets 360 on Twitter, Facebook, and Google News. For the latest videos on gadgets and tech, subscribe to our YouTube channel.
Related Stories