Acer on Thursday launched 10 new products including laptops, 2-in-1s, a Chromebook, Predator gaming devices, a smartphone, a fitness band, and more. The company at its New York event launched the Switch Alpha 12 2-in-1 laptop, Chromebook 14 for Work, Aspire S13 and R15 laptops, Predator 17x gaming notebook, Predator G1 compact gaming desktop, Predator Z1 gaming monitors, Liquid Leap fit fitness band, Liquid Zest Plus smartphone, and the Xplova X5 bike computer.
Talking about the prices, the Acer Switch Alpha 12 will start at $599 (roughly Rs. 39,900) and will be available in June this year. The Aspire S13 will be offered in Obsidian Black or Pearl White and will hit the shelves in May starting at $699 (roughly Rs. 46,500). The Liquid Zest Plus smartphone will arrive later this year in the US at $250 (roughly Rs. 16,000). As for the Chromebook 14 for Work, the laptop's base model costs $349 (roughly Rs. 23,200).
For gamers, the new Predator devices will reach the US and the Europe in June. The Predator 17X and Z1 monitors will be available in China starting May, while the G1 will reach in July. The Predator 17X starts at $2,799 (roughly Rs. 1,86,400), while the G1 desktop and Z1 curved displays start at $2,300 (roughly Rs. 1,53,200) and $600 (roughly Rs. 39,900) respectively. The company is yet to give price and availability details for the Aspire R15 convertible laptop, Liquid Leap Fit, and the Xplova X5 bike computer.
The Acer Switch Alpha 12 (seen above) 2-in-1 Windows-10 laptop that features a 12-inch QHD 2160x1440 pixels resolution display and comes in 6th generation (Skylake) Intel Core i3/i5/i7 configurations. The laptop bears 4GB of RAM and 128GB of SSD storage, as well as Intel's RealSense 3D camera.
Acer with its Switch Alpha 12 has followed the footsteps of Microsoft Surface Pro 4 as it too has a newly designed liquid cooling system. It also features an inbuilt kickstand and comes with a bundled keyboard as well. Users can also separately purchase Acer Active Pen stylus with 256 levels of pressure support. It weighs 1.25 kgs.
Acer also refreshed its Chromebook 14 (seen above) for Work as it now comes with a Gorilla Glass case, spill-resistant keyboard, and can run for 12 hours on a single charge. The base model runs on Intel Celeron processor and comes with optional Skylake Intel Core i3 or Core i5 processors. It supports up to 8GB of RAM along with Intel's HD Graphics 520 integrated graphics.
The Acer Aspire S13 is the company's new ultrathin laptop at 14.4mm that sports a full-HD (1080x1920 pixels) resolution display with touchscreen and non-touch screen options. It is configurable with up to 8GB of RAM and with up to 512GB SSD. It also comes with an optional battery that is said to make the laptop run for 13 hours non-stop. Under-the-hood the Acer Aspire S13 comes in Intel Skylake Core i3/i5/i7 processor options. It has a USB Type-C port, 2 regular USB 3.0 ports, HDMI, and an SD card slot.
The company also launched its Aspire R15 convertible laptop that supports Intel Skylake Core processors, up to 12GB of DDR4 RAM, Nvidia GeForce 940MX graphics, and features a 15.6-inch full-HD display. The company also updated its Aspire F15, Aspire E14, Aspire E15, and Aspire E17 consumer notebooks in terms of processor support, new colours, and build.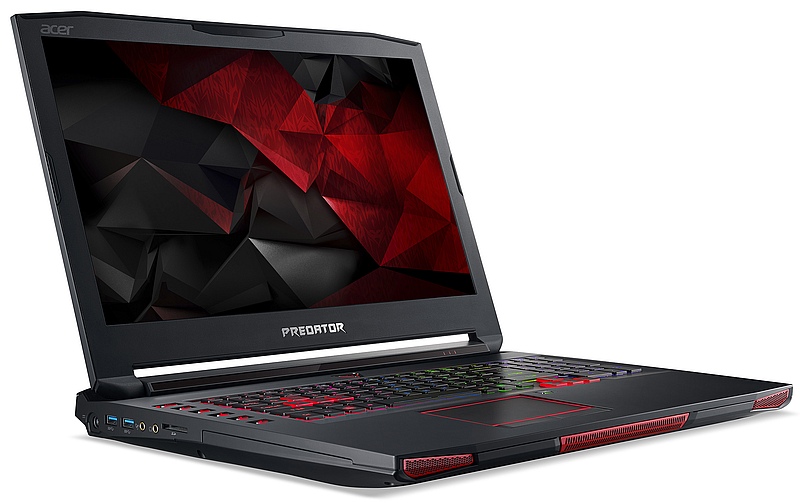 Gamers now have three new devices to look at from Acer. The company has launched Predator 17X gaming notebook (seen above), Predator G1 compact gaming desktop, and Predator Z1 curved gaming monitors. The Predator G1 desktop features Intel's Skylake processor and can support up to 64GB of RAM along with Nvidia GeForce GTX Titan X graphics.
The Predator 17X features the same 17-inch display as its predecessor, the Predator 17. The display now comes in full-HD IPS (1920x1080) or 4K IPS (3840x 2160) options. It supports Nvidia GeForce GTX 980M GPU, as well. The laptop and the desktop are VR ready and supports Oculus Rift and HTC Vive along with the OSVR and StarVR. The Predator Z1 monitors come in 31.5-inch, 30-inch and 27-inch options and supports Nvidia's G-Sync technology for improved graphics.
The Acer Liquid Leap Fit and Xplova X5 bike computer were also launched at the event. The Leap Fit fitness tracker features all the health-tracking functions carried by most of the others in the market. The wrist-worn band is rated to deliver up to 10 days on single charge. The Xplova X5 houses a GPS tracker along with a built-in camera. The camera turns on automatically at preset speeds and heart rate levels as per the company.