After months of speculation and plenty of leaks, Microsoft has given the world its first official look at the
next version of Windows
. The biggest surprise is its name - Windows 10. While some of the new features are predictable, others come as surprises. It's clear that Microsoft has gone back to the drawing board after enduring endless criticism of its bold Windows 8 strategy and redesign. The reinvented Windows tries to combine the best of both worlds.
1. Windows 10 will be designed to appeal to office workers
After years of dealing with complaints that Windows 8 was too different to roll out in large-scale corporate environments and would require massive resources to be spent on retraining users,
Microsoft
has decided to appeal to that crowd by incorporating
familiar elements
and hiding features that won't be applicable. The new Start menu is a prime example of this.
2. ...and corporate IT managers
On the management side, Windows 10 promises better security, easier manageability, and improved capabilities for dealing with today's security threats. There will also be improved methods of installing and dealing with volume licenses, making the upgrade process easier. Custom app stores will help corporate environments to deal with software deployments and permissions. There is still a huge install base of Windows XP machines in office environments which work just fine, but Microsoft's new features might be tempting enough for managers to finally decide that an upgrade is worthwhile.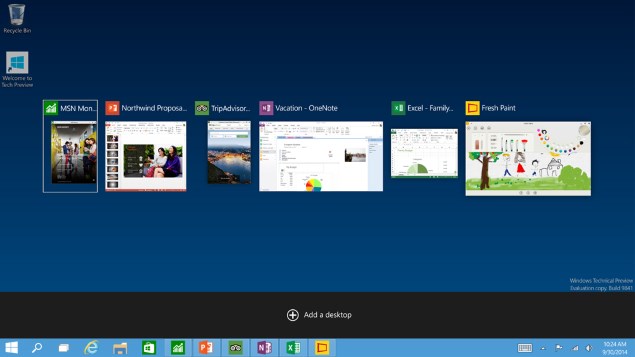 3. Windows 10 will scale from small smartphones to giant data centres
The Windows 10 name will apply to future versions of Windows Phone as well as Windows on tablets, desktop PCs and hybrid portable devices. The same experience will carry over to the Xbox One console and potentially other devices as well. Users will see an interface suited to their device type, screen size and input methods, so for example, the full-screen Start UI will not necessarily be a part of the desktop usage experience, but will appear for touch-first tablet users. There will even be a way for users to switch between the two modes, especially if they use tablets with detachable or foldable keyboards.
4. The new Start menu will combine Windows 7's usability with Windows 8's tiles
While a lot might change between now and the final release of Windows 10, previews indicate a two-column Start menu with old-style icons for pinned or recent programs on the left, and live tiles on the right displaying updates and information. The tiles will be customisable, though at their smallest size they will be functionally identical to pinned shortcuts.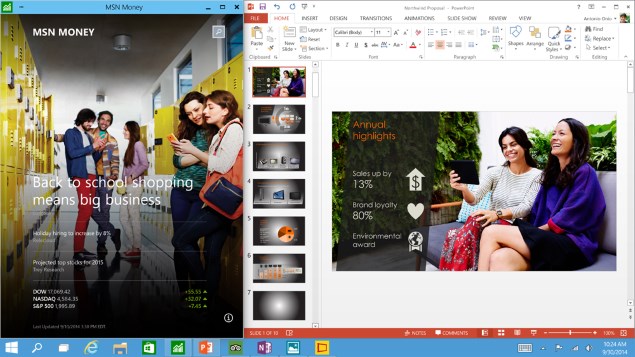 5. Modern apps will run in windows on the desktop
Desktop users will be able to run Modern apps (downloaded from the Windows store) on the desktop just like other apps. They will be resizable and can be pinned to the taskbar. Important functions will be accessible through a context menu.
6. Virtual Desktops are finally coming to Windows
A mainstay of OS X and most Linux distributions for years, virtual desktops have remained a niche feature on Windows. In another move aimed at appeasing hardcore desktop users, virtual desktops are now baked right in. A new Task View will let you see an overview of all running apps and arrange them between desktops.

7. Snap has also been improved
You can now quickly tile four apps at once on the Windows 10 desktop just by dragging them to the corners of your screen. You'll see suggestions for filling up your screen so that you don't have to deal with overlapping windows. Desktop users with large monitors will rejoice.
8. Search and power user features will be improved
The new search feature combines local and Web results. You can begin searching just by typing when the Start menu is open, which means you can continue to hit the Start button and just start typing exactly like in Windows 8. Microsoft has another treat for power users - finally, you can use a simple Ctrl+V shortcut to paste text into the Command Prompt.

9. The Charms bar isn't going anywhere
Just like with the Start screen, Microsoft isn't completely removing all vestiges of Windows 8. The Charms bar remains, though most probably only visible to users of touch-first devices. It will be improved, and those Windows 8 users who are familiar with it can continue to use it.
10. There's much more to come
Microsoft has teased that there are plenty of good reasons for its decision to skip a Windows 9 and jump two version numbers ahead. We hope to see many more improvements and refinements of the concepts that have been demonstrated so far. With public beta releases not too far away, it's going to be an eventful year leading up to the final release of Windows 10.