There are surprises around every corner when you come to Computex, and it's impossible to discover them all unless you walk through every single aisle and peek into every single booth. With over 1,700 exhibitors to visit, that's no easy feat. Here are some of the highlights of the show on its penultimate day.
Funky flash drives
We spent time with most of the big names in storage - Transcend, PNY, Adata, Apacer, PQI, Team, - and plenty of unknown companies as well. Apart from the usual dizzying variety of USB pen drives, we noticed a huge increase in the number of Micro-USB OTG drives for Android devices. Some were tiny and some were massive; some were plastic while others were metal. Capacities range up to 256GB.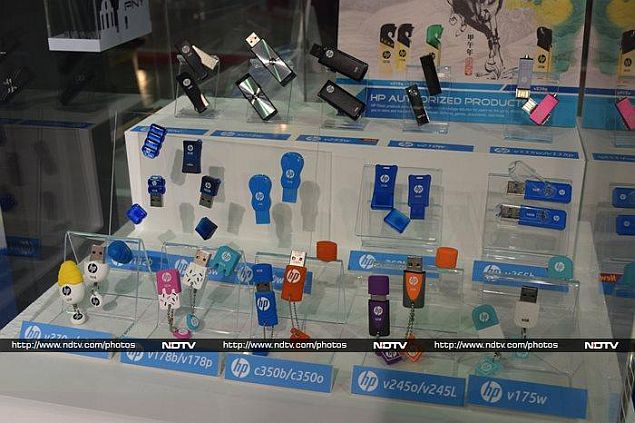 Shrunken SSDs
Another area of growth is in miniature solid-state drives. After a bit of experimentation, the industry seems to have settled on the M.2 (formerly known as Next Generation Form Factor or NGFF) standard. You'll soon find these drives in slim laptops, tablets, and even desktop PCs thanks to mainstream adoption with Intel's recently launched 9-series chipsets. However, it was a series of mini-PCIe SSDs from Transcend that stood out most. These are tailor-made for various Apple models, and come with an external USB enclosure of the appropriate size for the SSD already in your MacBook or Mac Pro. This way, you get a performance boost and/or more storage space without wasting the drive that originally shipped with your device.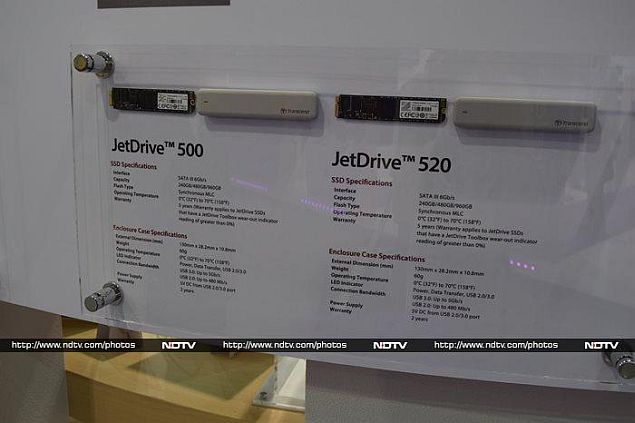 (Also see: Nvidia at Computex 2014 - In Pictures)

Wireless charging
Many companies, regardless of what else they produced, had branched out into power banks last year. This year, it's all about wireless charging. Several companies had Qi charging pads and add-on sensors for various phones. Samsung phones require only a thin sensor to be added over their batteries, whereas other Android devices and iPhones require external sleds connected via Micro-USB or Lightning.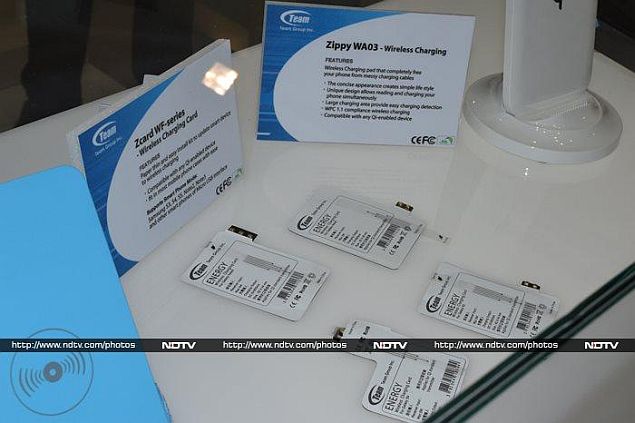 DIY delights
There were thousands of PC cabinets, power supplies, motherboards, RAM modules and accessories on display, but if you're looking for something a little more exotic, you'd better hope your local distributor was at Computex this year. These DIY all-in-one PC cabinets from Shenzhen ViewPaker caught our eyes for all the right reasons. Using standard ATX PC components, you can put together a killer SLI or Crossfire all-in-one gaming rig on your own. Company reps promised capable heat management, and there was even one model with a battery built in.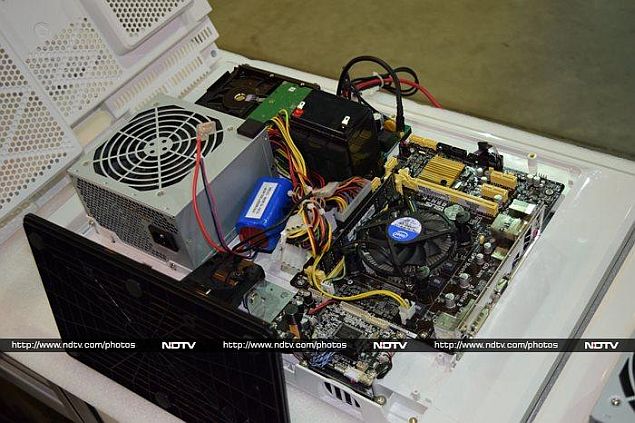 (Also see: Asus at Computex 2014 - In Pictures)

Extreme furniture
Ordinary gaming cabinets aren't fancy enough for you? How about a desk that holds not one but two entire gaming rigs? That's what Lian Li has delivered. Available in single, dual, and mini versions, the DK series is totally absurd, yet we're already itching to beg for these to be installed everywhere the next time our office is remodelled. Made of aluminium, iron and tempered glass, these tables will show off your killer components and give you bragging rights for miles.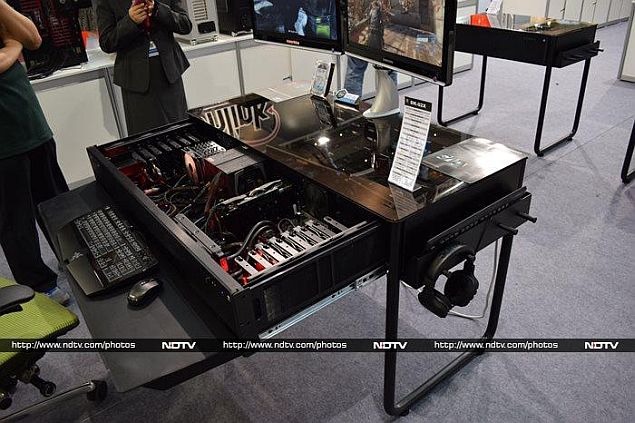 (Also see: Intel at Computex 2014 - In Pictures)

Mobile accessories
It isn't just cases and speakers anymore, companies are getting more and more creative with their mobile accessories. We saw tons of interesting USB OTG drives, wireless accessories, media streaming and sharing devices, and of course charging pads. Two of the most interesting and practical ones were PQI's 4-in-1 and 5-in-1 Micro-USB dongles. The former allows USB, Micro-USB, SD and microSD storage devices to be plugged in, while the latter adds a full-sized HDMI port, allowing it to function as an MHL video adapter as well. We'd all love to have these in our bags at all times.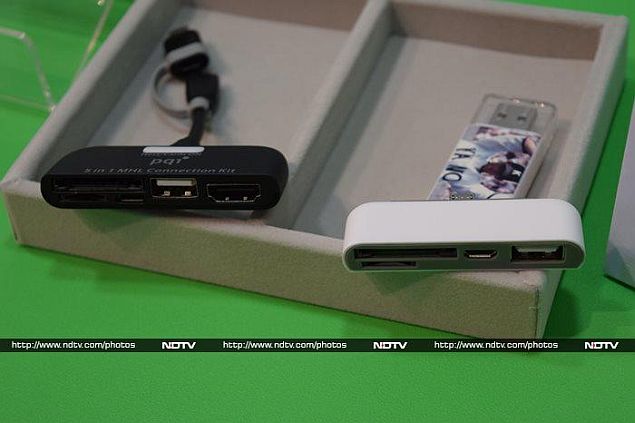 Gaming goodies
If you like endless customisability, you'll love Roccat's new Tyon, which has an Easy Shift paddle that lets you modify each of the 16 buttons with an alternative function. It also has an analog thumb paddle and "dorsal fin" rocker on the top which you can flick side-to-side with either your index or middle finger. Of course it lights up and its sensitivity can be configured in any way you like.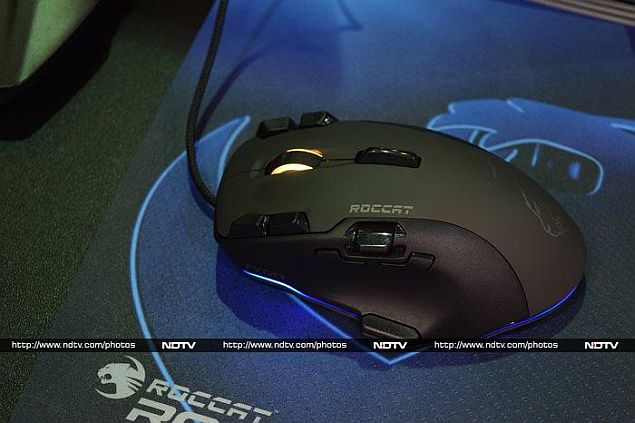 (Also see: Asus at Computex 2014 - In Pictures)

Overclocking madness
Several PC components brands had live overclocking displays at their booths, but G.Skill's was by far the biggest and loudest, occupying the entire front face of its booth with a giant sign advertising the names and achievements of the overclockers in action. We aren't sure if the crowds were more interested in the billowing plumes of liquid Nitrogen or the dancing girls who performed for the crowd and threw prizes out to passers-by, but the brand sure got a lot of attention either way.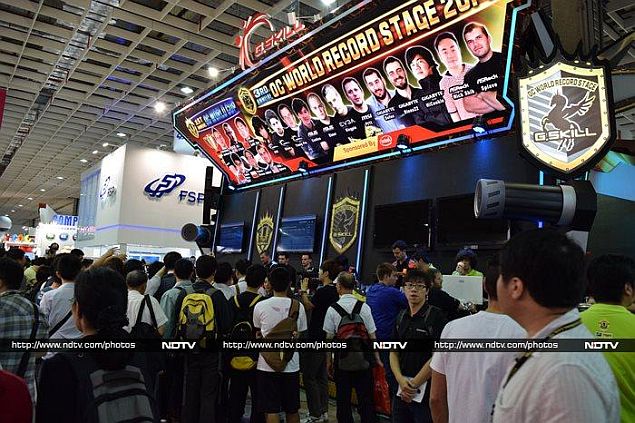 (Also Read: Computex Roundup - Part 1: 3D Printing, Hybrids, Wearables, and More)

Dubious licensing arrangements
We love the less glamorous and less trafficked halls in the old World Trade Centre buildings because we never know what we'll find. This year, the Caped Crusader himself made an appearance to promote a range of power banks shaped like soda cans (obviously). We're pretty certain there's nothing official about this cameo appearance, but then again that's never stopped Chinese manufacturers.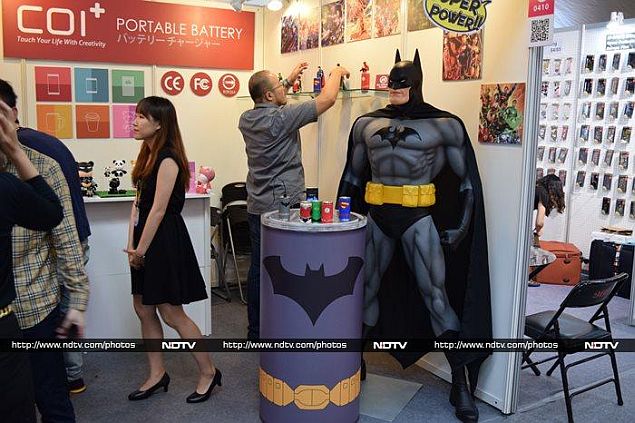 Disclosure: Intel sponsored the correspondent's flights and hotel for Computex.