Computex, the world's largest computer and technology trade show, is about to get under way. The annual event attracts tens of thousands of industry leaders, journalists, manufacturers and buyers to Taipei, the capital of the tech manufacturing world, where everyone will be trying to outdo one another with the latest and greatest innovations over the course of seven jam-packed days.
Spread across 5,000 exhibition booths and hundreds of banquet halls and hotel suites, Computex is where the world's biggest and most powerful companies unveil their products and strategies for the coming year. Here's a small glimpse at what to expect next week.
Laptops, tablets, smartphones and more
Asus traditionally kicks off the show with a splashy launch event. Past years have seen the debut of the Padfone, Taichi, and Transformer Book Trio, amongst dozens of other products for home and business use. No one can say that the company isn't innovative, but it always seems as though they go into overdrive at Computex. Whatever incredibly imaginative hybrid product they come up with this year - teasers indicate a thin hybrid device that could be part smartphone, part tablet and part laptop - Asus will be trying very hard to dominate the show.
Acer, another of Taiwan's biggest brands, should have a few refreshed laptops and tablets to show off. Most components brands have also branched out into fully-built systems, so there'll be lots to see from Zotac, ASRock, Gigabyte and of course Asus.
Microsoft will have a presence at the show as well, but it will, for the most part, display products built for Windows, including new smaller touch-based devices that take advantage of the smaller footprint allowed by Windows 8.1's most recent update.

Processors
Intel has a huge presence at Computex, and will host a keynote which will be attended by the CEOs and presidents of every major Taiwanese manufacturer, where it will formally announce new processors and show off several prototype devices created by Taiwanese companies which are based on them. Intel will also explain its direction for the rest of the year and disclose new products and tech that it is working on - including, perhaps, more details about its deal with Rockchip to co-produce low-powered SoCs.

However, it won't be alone. Both AMD and Qualcomm will host events and showcases of their own, during which they are expected to make major announcements. Qualcomm will have dozens of ready-made devices to show off, whereas AMD has hinted that it has some rather big news to share - concrete details about its recent dual-pronged X86-ARM strategy, we hope. Hopefully, Nvidia will be ready to show off the Tegra K1 and actual products built around it as well.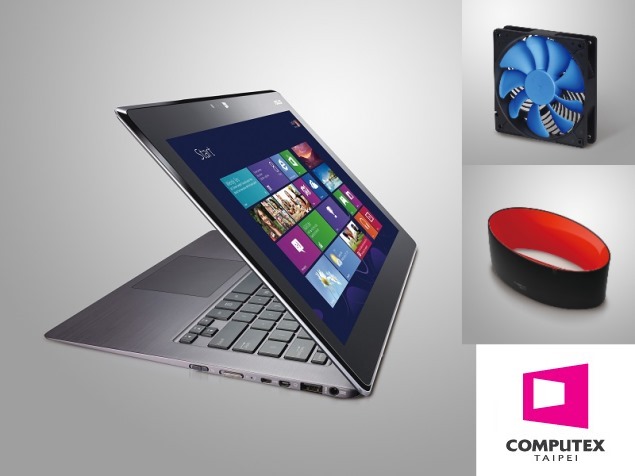 PC Components
Not to be outdone by its other half, Asus' own components division will be showing off loads of new graphics cards and motherboards, including its high-end Republic of Gamers line and other products targeted at overclockers and enthusiasts. You can expect to see a whole new line of boards based on Intel's latest 9-series chipsets. On the graphics front, expect a lot of exotic cooling solutions and massive dual-GPU cards with both AMD's and Nvidia's latest processors.
Gigabyte, MSI, ECS, ASRock, Zotac, Biostar, XFX, Galaxy and several lesser-known brands will also have their latest motherboards and graphics cards to show off. Expect fresh products in every price band from budget to extreme gamer, and every form factor from thin mini-ITX to E-ATX. Each brand will have its own special take on otherwise standard components - enhanced sound, better power conditioning, custom cooling, custom software, special bundles... the list of possibilities is endless.
BenQ, Acer, Asus and Viewsonic will have plenty of projectors and monitors to show off. We hope to see 4K displays becoming more affordable this year.
Taiwan is also known for PC cabinets, power supplies and coolers. The biggest players are Cooler Master, Antec, Corsair, Seasonic, Huntkey, Noctua, NZXT, Zalman, Swiftech, Thermaltake, In-Win, Lian Li, Silverstone and Thermalright. There are always incredibly inventive designs on display, not all of which are practical enough to make it to the market. Many of these companies will use the show to gauge reactions to their prototypes, and make modifications to them before their launch.
Flash products
There are also dozens of companies dealing in SSDs, pen drives, RAM, memory cards, hard drives and embedded storage devices. Adata, Transcend, Kingston, Sandisk, PNY, Apacer, Silicon Power and G.skill are amongst the more recongisable names. We hope to see more PCIe-based devices in various shapes and sizes, as well as those based on SATA Express and M.2 or NGFF, to complement Intel's new 9-series chipsets. Of course, there will be thousands if not millions of pen drives and USB accessories such as card readers in funky shapes and colours.
OEMs, ODMs, whiteboxes and suppliers
Entire exhibition halls are dedicated to Chinese and Taiwanese suppliers of all kinds of products - everything from switches and connectors to fans and LCD panels. Big names such as Corning will be found alongside previously-unheard-of local vendors. There will also be hundreds of booths displaying unbranded phones, tablets and other products that bulk buyers can simply slap their labels on.
Other products
If you're an electronics enthusiast, you'll go crazy at the clusters of stalls dedicated to small-time players in data storage, embedded devices, wireless components, touch applications, and handhelds. There's also no shortage of vendors of phone and tablet accessories, PC peripherals, headphones and bags.
D&I awards
Finally, one of the most interesting parts of Computex is the annual design and innovation awards show. Taiwanese companies will be awarded for producing outstanding products in a variety of categories, and all of them will be displayed at a special booth during the exhibition.
Stay tuned to NDTV Gadgets for continuous coverage of Computex 2014, live from Taipei all through the week.