No one really took Chromebooks seriously when they first launched. The laptop-lookalike devices were expensive, limited in function, and potentially confusing to users. Over the past three years, though, they've become cheaper, more flexible, and better understood. More importantly, they seem to have found a niche.
A recent report by Futuresource Consulting, cited by the Wall Street Journal, shows that Chromebooks accounted for just under 20 percent of all devices bought to be used by students in the kindergarten to Grade 12 range in the United States in 2013.
The figure is particularly noteworthy because Chromebooks represented only 1 percent of the same market in 2012. In the same period, the segment share of devices running Windows fell from 47.5 percent to 28 percent; an alarming fall that
The education is particularly interesting because it has traditionally been a stronghold for Apple. In recent years, the iPad has commanded a dominant share of the education market, largely due to its relatively low price, portability, and ease of use. iPads accounted for 43 percent of the K-12 market in 2013 - still comfortably ahead of others - aided by support from a large number of textbook publishers and app developers. Apple enjoyed the first mover's advantage in the tablet market, especially since iPads were cheaper than Macbooks and many Windows-based laptops, but it now seems to be showing signs of stagnation.
Meanwhile, instead of being thought of as sub-standard laptops, Chromebooks have come to be regarded as superior to tablets because they come with keyboards. As comfortable as it is to browse the Web and read books on an iPad, students benefit tremendously from having a keyboard on which to create assignments.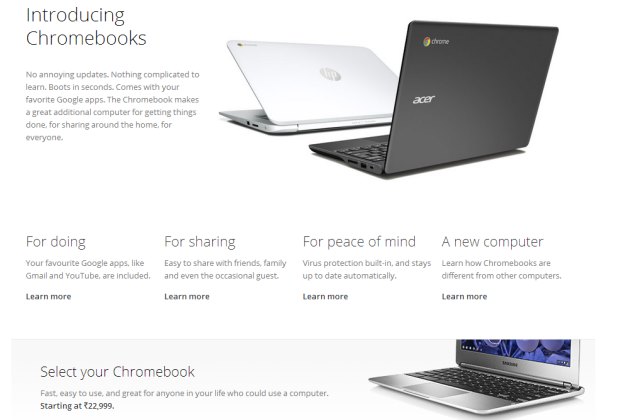 Samsung and Acer were the first to launch Chromebook models, with HP and Lenovo following in 2013. Dell and Toshiba have also just announced their own models at CES, indicating growing support and industry acceptance. The various models range in size from 11.6-inches to 14-inches, but none have processors more powerful than an Intel Celeron. Most models have 16 or 32GB of solid-state storage, but there have been variants with up to 320GB hard drives. The cheapest model costs $199 (approximately Rs. 12,530) but the average is $299-329 (approximately Rs. 18,690-20,610).
Google itself released a $1,449 (approximately Rs. 94,000) Chromebook, dubbed the Pixel, with a stylish metallic body, Intel Core i5 CPU, 64GB of solid-state storage and an industry-leading 2560x1700-pixel touch-enabled display. While outrageously expensive and impractical, it did serve to call attention to the platform, which had till then been regarded as low-cost and low-value for developers and consumers alike.
Chromebooks run a bare-bones Linux-based operating system and work best with a persistent broadband Internet connection. What users see is primarily the Chrome browser, and all tasks are accomplished within the browser. Google offers software in the form of Chrome Apps, which run within the browser environment. Most apps, including Google's own document creation and productivity tools, run on remote Web servers and require users to be connected to the Internet at all times, though apps do offer limited functionality in offline mode.
While these factors have worked against Chromebooks for home and business users, they have been offset in the education market by the devices' low cost and relative ease of use. As more and more schools move their learning and test-taking materials online, Internet access on and around campuses is a given. Many users, young and old, are already familiar with Google's Gmail and other services. Google Drive, Docs and Calendar also have plenty of existing users who feel comfortable with them.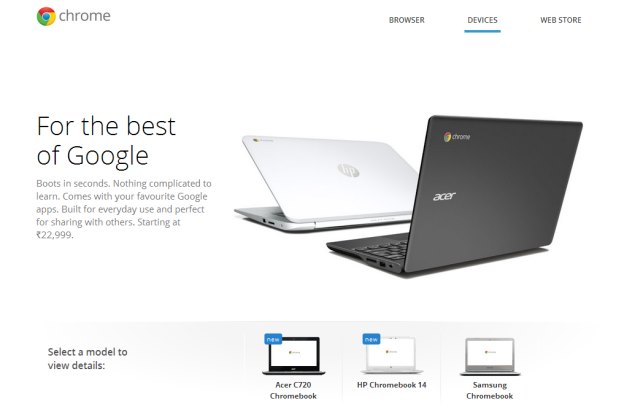 The report also points out that Chromebooks are relatively easier for IT administrators to configure, and that security threats such as viruses and spyware are somewhat mitigated by the cloud-based architecture. Then there's the fact that Google's online office suite is free to use, whereas Windows and Mac users have to pay for Microsoft Office. Apple recently started giving away its own iWork suite for free with every purchase of a new Mac or iOS device.
Chromebooks thus score where traditional Mac and Windows laptops as well as iPads and Android tablets stumble. Apple's traditional hold on the education market, which helps familiarise users with its hardware and software from a young age onwards, could thus slip away. Microsoft, which has already suffered thanks to the declining popularity of traditional notebooks and desktop PCs, would seem to have the most to lose. Windows 8, which was completely reimagined for a new generation of touch-friendly tablet-inspired devices, was met with only lukewarm market response.
In India, Google lists Chromebooks from Acer and HP on its website and links to online as well as offline retailers that sell them. Acer's C720 costs Rs. 22,999 in India, while HP's Chromebook 14 is priced at Rs. 26,990. At these prices, neither device is a particularly attractive prospect. Internet connectivity is nowhere near as robust in India as it is in other regions, and the devices are severely limited when working offline. Notebooks running Windows 8 are available for under Rs. 20,000, and while these do have modest specifications, they're still far more useful than either Chromebook model.
If Google is aiming for similar success in the Indian education market as it has had abroad, it will have to play up the ease of configuration and push the entire industry to make Internet access faster, cheaper and more widely available.