The next version of OS X will be named Yosemite, and it's not only a major redesign but a major reimagining of the role a desktop or notebook computer should play in your life relative to your smartphone, tablet and other devices. The new operating environment hopes to bridge gaps between the functions of each type of device, propelling users into a new age of continuity - as Apple calls it - between devices and experiences.
Here are the ten biggest changes in the new OS X.
1. Handover (including voice calls) and Airdrop
One of the most radical new things about OS X is the way it interacts with iOS. All types of Apple devices will be able to sense their proximity to one another and allow users to shift attention.For example, you could start typing a document on your phone and immediately continue on your laptop when you're near it. Presumably, this will work only with Apple's own apps such as Pages, Keynote and Safari. Airdrop also now works between OS X and iOS for easier file sharing.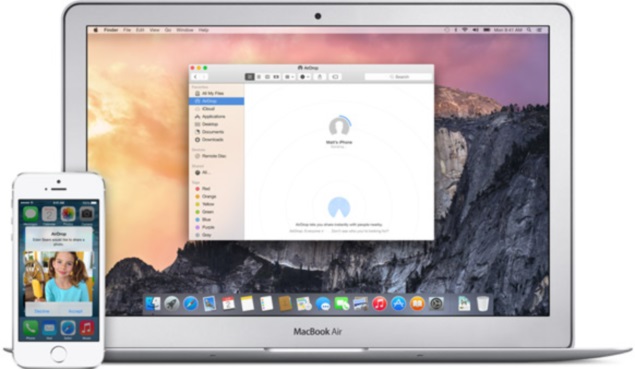 If your OS X computer knows your phone is nearby, you'll see notifications on screen for calls, texts and other events. You can then choose to answer them right where you are, with your phone acting as a relay. It works vice versa as well, across all devices.
2. Redesign
As expected, OS X has received a complete makeover and is now in line with iOS, which got the same treatment last year. Gone are the Aqua-era bubbles, textures, 3D effects and shadows, replaced by stark frosted translucent surfaces everywhere.
There's a new systemwide font optimised for Retina displays, and title bars everywhere have been redone. Sidebars and title bars are now varying degrees of translucent, and even the signature "stoplight" trio of window control buttons are now flat circles - and the maximise button has been replaced by a full-screen button for all apps.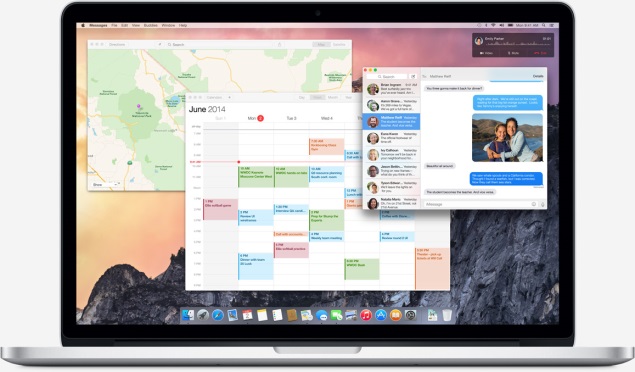 The dock isn't 3D anymore, and nearly all system icons have been updated to be more consistent. Even the system-wide menu bar and menus have been made more translucent, though you can change the look to a darker one if you prefer.
3. Revamped spotlight
There's a whole new look and new functions for Spotlight, the system-wide search tool. Hitting the Cmd + Space shortcut will now bring up a huge dialog across the middle of the screen, rather than a fly-out in one corner. You can use it to search the Web, and if it recognises a common term, it'll show information directly from Wikipedia, Maps, Bing, iTunes, and various other providers.



There's no Siri for OS X yet, but this is practically a text-based alternative. It will even do unit conversions. Of course you can still find all your documents, chat messages, apps and calendar events.
4. iCloud Drive
Finally, iCloud no longer restricts you to only saving and opening files through apps. The new iCloud Drive view is integrated into the OS X Finder (and presumably iOS as well) so you can browse through it and add or remove files just as though they were on your own hard drive.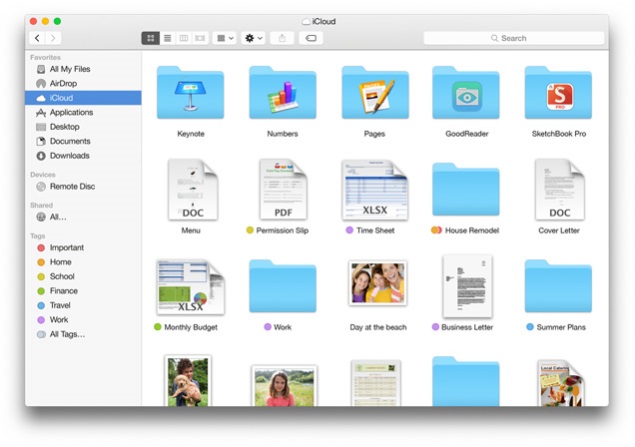 It isn't clear whether apps will be able to access all files or will still be restricted to the ones within their specific folders. This functionality mimics Dropbox, OneDrive and other mainstream storage services. You still get only 5GB of free space (no matter how many devices you use on the same account) but prices for more space have dropped and you can now get 20GB for $0.99 per month.
5. Safari enhancements
The latest version of Safari has a totally overhauled look, with a streamlined title bar and no visible favourites. Clicking in the title bar will show your shortcuts, and if you start typing you'll see results equivalent to a Spotlight search.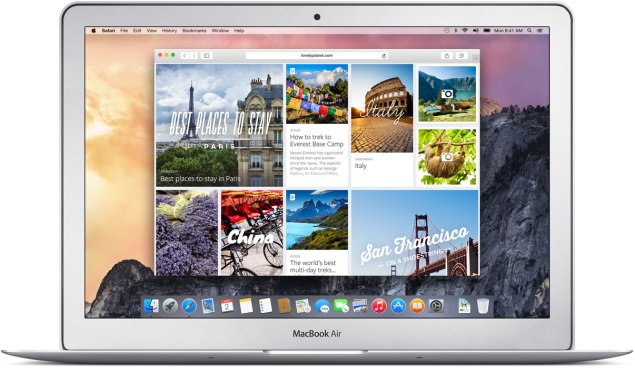 There's a new Exposé-style tab management view, a sidebar, and more options for private surfing. Web standards support has been updated and you can now also use the privacy-minded DuckDuckGo search engine.
6. Improved notifications and widgets
Notification Center now looks a lot like it does on an iPhone. You can see a Today view with upcoming appointments, and you can configure what you see. Most importantly, you can now have third-party widgets such as sports scores and website updates in your Notification Center as well.
7. Updated mail
The Mail app has received quite a few updates in addition to the new visuals common to other apps. You can now send attachments up to 5GB in size via iCloud. Other Mail users will see the hosted files as regular attachments, while others will see a download link.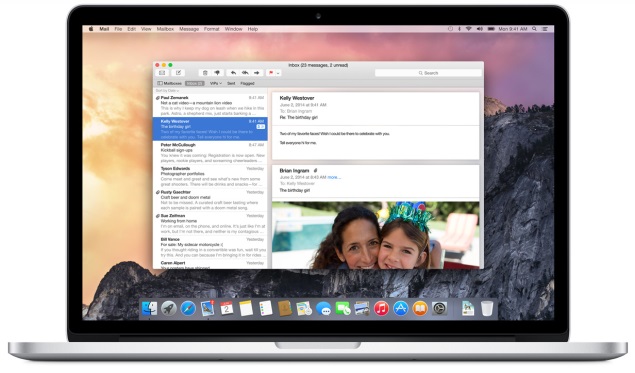 You can also draw squiggles or save text annotations on top of attachments, including PDFs and images. Recipients can see them and also save the attached files without them.
8. SMS everywhere
Another example of continuity between OS X and iOS is the new Messages app behaviour. Now, all conversations whether SMS or iMessage are mirrored across your devices and you can pick up where you left off no matter where you are. If you want to reply to an SMS, your phone will be used as a relay.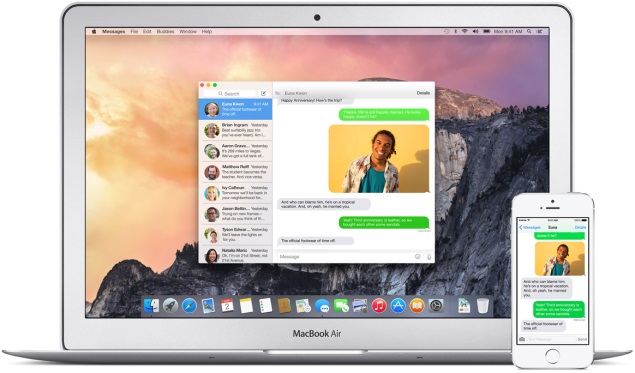 You can also create group messages on any device, mute individual message threads, and add participants or remove yourself from any group chat.
9. Photos app
Apple showed off a demo of a new photo management app which will release a little after OS X Yosemite. It pretty much mirrors the iOS Photos app, with photos sorted by gallery and date. You can even make quick edits with live previews. There will also be better synchronisation of photos across devices.
10. Developer tools
While users might not be aware of these new tools, developers should be very excited. The new Swift development environment is said to be quicker than Objective C and more flexible, with minimal overheads and live previews.
Bonus - Public Betas
In line with its earlier announcement, beta versions of OS X Yosemite will be available to the public for beta testing in a little while, before its final release later this year. Users will be able to get their hands on a version of the new OS X that isn't necessarily stable or representative of the final product. This should allow people to get familiar with the new look and functionality without feeling like they're being forced into it.
OS X Yosemite will be available this fall as a free download.