The Philips Hue isn't the kind of product that we normally review here. In fact, you have to ask if a set of three just lights, priced at Rs. 16,995, is even something that should be taken seriously. The answer isn't a simple yes or no though. On one hand, after spending a little over a week with these lights, we've found little or no compelling reason to own them right now. On the other hand, they give us an exciting look at the future of connected technology, and show just how much change is just around the corner. And if you're an early adopter of technology who wants to live in the future today, can you really put a price on that feeling?
The whole Hue experience, including the box that the lights are packaged in, is designed to be high tech. The box includes a hidden colour wheel, which you can rotate, so that the light on the cover changes colour. It's a very small touch, but it immediately connects you to the product, and we thought it was a very clever design detail.
Open the box, and you're faced with a slightly confusing looking collection of parts - there's a hockey puck base station that needs to be connected to your Wi-Fi router with an Ethernet cable. It also needs to be connected to a power source via the included adapter. Once you've set this up, you have three lights to connect - these are screw type lights, but Philips includes adaptors in case you have the more common two-pin bulb holders.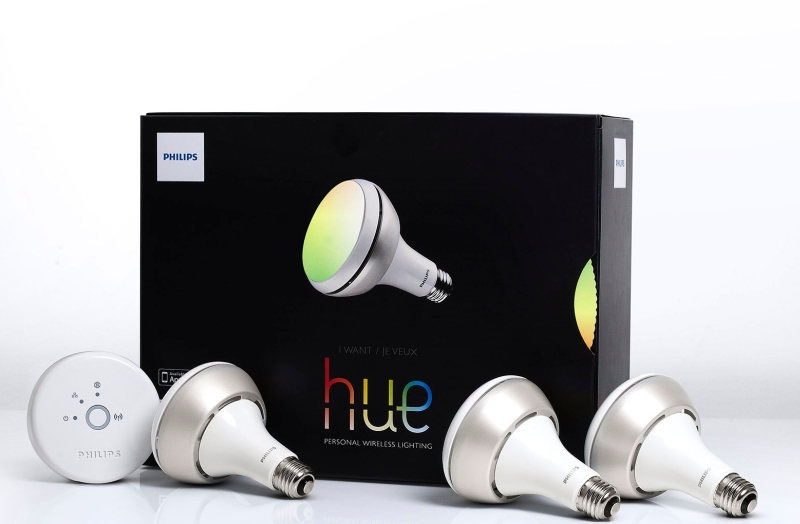 One you switch on the bulbs, they connect automatically to the base unit. To control the bulbs, you need to leave this switch on, and then access them via the app on your smartphone. The Philips Hue app is available for both iOS and Android, and allows you to power up the bulbs, and change the colour and brightness, of all three bulbs together or individually if you prefer. The app itself is a little unintuitive at first, but works pretty well.
It's worth noting that we were using the Hue in a fairly small house - the total area is under 1000 square meters; the Hue base station, which connects using the Zigbee protocol, has a range of around 15-30 meters, pretty similar to Bluetooth. So if you're in a particularly large house (as, presumably, someone who is able to afford lights worth over Rs. 5,000 each will) then the range might not be sufficient. In our testing though, the lights worked fine across the whole house, though again, with the base station in the middle of the house, 30 meters pretty much covers the entire area.
You can choose "scenes" inside the Hue app, and the scenes are either photographs you click, or presets that are already saved in the Hue app. The three lights are then assigned different colours from the picture, and change automatically. The effect is particularly dramatic if you've got all three lights set up in the same room; when they're spread around the house, you end up with different rooms of different colours, but it doesn't set the scene in the same way.
You can also change the intensity and the hue of each light individually, and this allows you to fine tune scenes if you want. If you want to set the mood in each room, setting the lights to dramatically different colours can be easy, and actually pretty fun to do. From a practical perspective though, you're not going to want to change the lights colours routinely - once you find the right setting for each light, you're likely to only want to switch it on or off.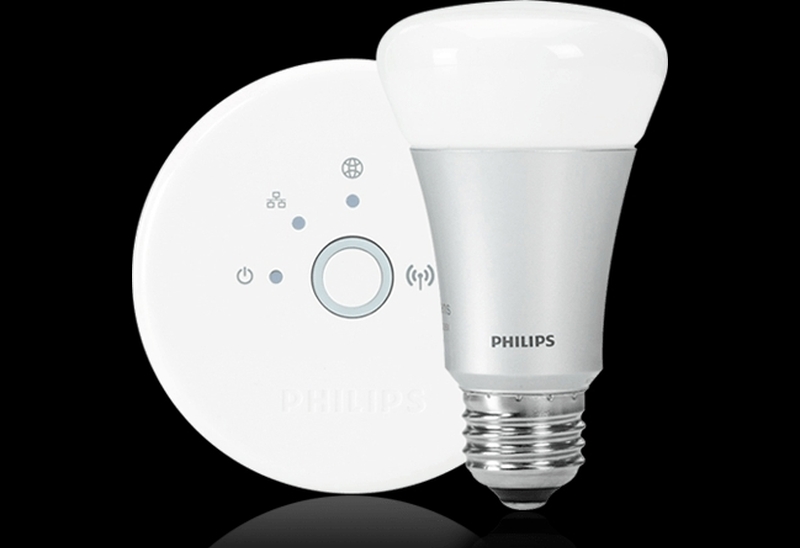 That's where the app becomes a little annoying to use - if you switch off the light manually, then the next time you switch it back on, it returns to a bright yellow light when you turn it back on again. If you want the lights to keep to the colours you'd set, then you can only power them off with the app. And unlocking your phone and launching an app just to turn the lights off is a little annoying.
There are however, some smart features that make it worth the effort. For one, you can download apps that turn the Hue into a disco light, or fireworks. Another allows you to turn the Hue into a lava lamp. If you have a Philips Ambilight TV, then the hue can also connect to the TV to extend the lighting from your scenes into the whole room. It's not necessarily practical, but an interesting set of features.
How about an app that makes your lights blink blue when a call is coming? Maybe you'd like to use IFTTT to have your lights blink red whenever your favourite YouTube channel posts an update or your favourite football team scores a goal? These might not be helpful to most people, but there are any number of ways to customise the way in which the lights work, so you should be able to find something that works for your particular needs.
And not even taking into account third-party apps that connect to the Philips Hue lights, there's the built in alarm and geofencing functionality. Your lights can be set to switch off automatically when you leave home, and switch on again when you get back. You can also use the alarm function to have them switch on or off on a schedule of your choosing; complete with a random factor if you want, so that it can make your empty house appear occupied.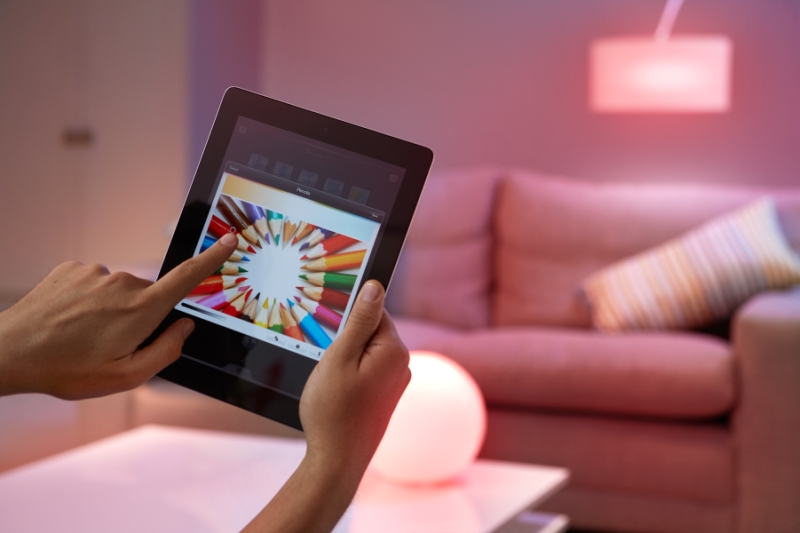 These are all very useful features, and as we already said, there are a thousand different ways in which to customise things, so you'll certainly find specific use cases that are useful for you. The question that has to be answered however, is whether this is worth spending Rs. 16,995 on?
The answer has to be no; for most people. Using the Hue felt like living in the future. We couldn't stop fiddling with the settings and tweaking things at first, and once we had it finally set up to our liking, there was no denying that the Hue wasn't just cool, but genuinely useful.
Having lights that can react to your moods, lights that can give you information, lights that can be controlled from the palm of your hand without any complicated installation or remotes, is fantastic; but that doesn't justify the huge price tag that these lights come with. A two-year warranty doesn't sound like much for a lightbulb that costs over Rs. 5,000, and while it's nice to have so many features in a single bulb, it's better to just figure out what you need for your house, and create your own setup with single colour lights and dimmer switches, for a fraction of the cost.
Is that comparable to the flexibility and usefulness of the Hue? Definitely not. But it's also something you can do for less than a tenth of the cost. If you really have the disposable income that the Hue implies, then you will definitely not be disappointed by your new lights, but for the 99 percent of us who don't have that kind of money, technology like the Hue still remains a few years in the future.