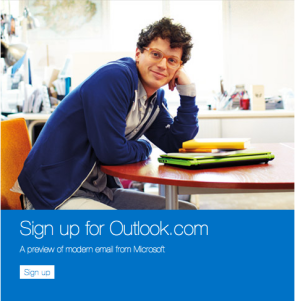 Microsoft made a big move today by pulling the plug on Hotmail and replacing it with a fresher, cleaner, simpler email service called
Outlook.com
. Within just a few hours of its birth,
Outlook.com
witnessed 1 million sign-ups. So what is making the newly launched e-mail service popular? We find out.
Signing up for the service is pretty basic and you're good to go after a few steps. A note of advice here, captcha is case sensitive while verifying your account. Once in, you're greeted by a simple blue and white themed Inbox. The colour is set by default and you can always head to the settings menu to change it. Overall, the design incorporates Metro style Windows 8 touches.
You can now link social accounts such as Facebook, Twitter, LinkedIn and Flickr. Apart from that, you can also access a horizontal menu for your Mail, Contacts, Calendar and SkyDrive by clicking on the Outlook icon.

Twitter integration allows you to tweet to your friends from Outlook.com and see their latest tweets in e-mails. But your contact list will appear overcrowded with all those you follow. Despite the option to search for contacts directly or jump through the alphabet by section using the lettered squares that is highly reminiscent of Windows, but it can get a bit tedious. Good news is Outlook.com has an option for merging contacts if you've imported them more than once.
The People Hub makes an appearance here which is used in Windows 8 and Windows Phone to manage contacts. Facebook Chat is integrated as well and your Facebook contacts shall appear should you choose to link with the social network.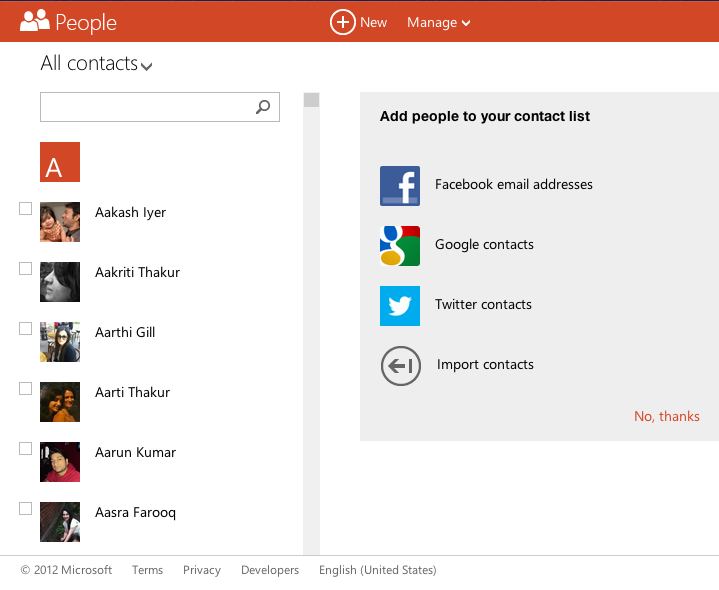 Since the service is in its launch form, Skype integration is not available yet. But Microsoft plans to bring the video calling service once Outlook.com takes its final avatar.
Speaking of e-mail, a big standalone 'New' tab helps you create a new mail. The window is definitely quite different from the traditional Outlook that users are used to seeing. The sidebar offers access to enter recipient details. The right pane is a big white blank screen where you can type your message.
There's a formatting bar above and the subject line sits high on the top. Options to Send, Save, Cancel and more are situated in the command bar a little to your left. It did take some time to notice the new format but it's simpler once you get used to it.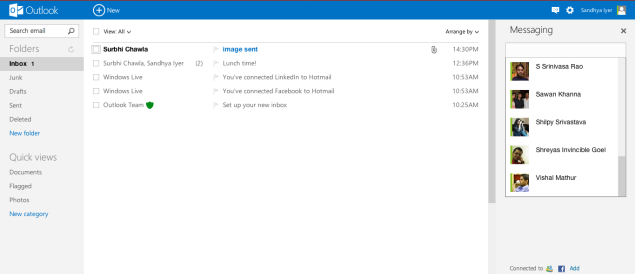 Other features include the integration of keyboard shortcuts from Gmail and Outlook Desktop. There's also autocomplete when searching your inbox along with autoforwarding, message archiving and vacation alerts.

You also can rename your e-mail address, recover deleted messages, create an Outlook.com alias and save the contents of a chat thread or a new message.
All-in-all, Microsoft has made a decent attempt to rejuvenate the email-service. It has a refreshing look and will attract many more users in the coming weeks.

After it is released in its final form, Outlook.com will replace Hotmail. But Microsoft will allow users to retain their @hotmail.com, @live.com and @msn.com addresses as well as their contacts, messages, password and rules.
A word of caution if you are using anything other than the latest version of IE, Chrome or Firefox - your experience may be less than optimal, since Outlook is built using modern technologies available only in the new browsers.