Flipkart's Big Billion sale, Amazon's Great Indian Festive Sale, Snapdeal's Electronic Monday - these are just some of the many sales that are taking place across e-commerce sites right now.
Other sites that are getting in on the excitement include Paytm, Myntra, Shopclues, FabFurnish, and Pepperfry, all of whom have festive sales, while most others are also featuring huge deals on their home pages, even if they're not calling them special sales.
Except of course, when you actually look at the deals on offer, most of the products you'll find aren't really great deals, or big discounts. As is always the case, MRPs are talked up and discounts are calculated against these numbers even though the products in question are almost never sold at the MRP.
(Also see: When a Deal Isn't a Steal, How Do You Feel?)
Things can get particularly out of hand when the special-never-before-seen-festival-deal price of a product is actually higher than the price it's being sold at on a competing platform. At some point, it's not just shoddy, it's plain embarrassing.
We're seeing discounts of 80 percent off on sites, and it's misleading and just a little bit stupid really. Nobody really believes these numbers anymore, and frankly, it generates a lot of negative backlash on social media as well. At the same time, the idea of a festive sale is a popular one, and it leads to a spike in visitors to the sites. So when things go haywire after this, it's going to make things even worse.
(Also see: Flipkart Big Billion Days Sale Off to a Rocky Start)
None of the companies are exempt from this criticism either. Some have been more successful than others, but not one site shies away from exaggerated prices and fake discounts.
And the reason these sites have to take these ridiculous steps is also simple - we're living in a time where all the companies are locked in a death race to the bottom in order to win all the consumers in the market. There is little, if any, loyalty towards sellers - the one that offers the best deal, even if it's a difference of 5 percent, is the one that's getting the sale - and funnelling users towards apps so they can't comparison shop isn't working either.
When it comes to deals, Indians are nothing if not diligent, and when your entire business model is predicated on deals, you're just training customers to spot the hype during your big sales. If a TV is always sold at '50 percent off' from the MRP, what possible deal are you going to be able to offer buyers when the time comes for your big bang sale?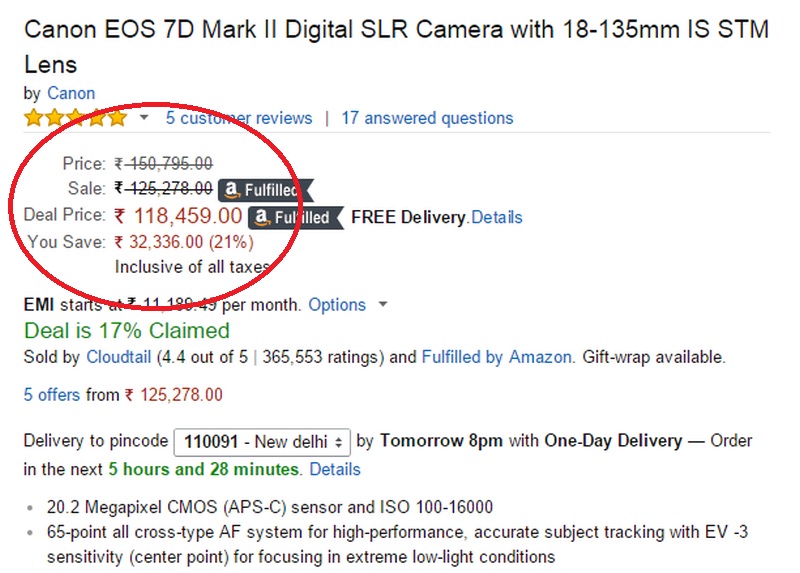 Perversely, this means that the actual deals don't feel like much anymore. Consider this - a speaker that is typically sold for around Rs. 20,000 was available during one of the sales at Rs. 14,990. That's a pretty big discount, between 25 percent, and many sellers actually usually sell the speakers for even more. But the MRP of the speaker is Rs. 49,990 - this allowed the seller to claim that it was offering a 70 percent discount. Of course, 30 seconds with Google shows you exactly how much of a deal you're actually getting... And suddenly, that 25 percent discount (which, just to reiterate, was a pretty good deal for a nice product) starts to look paltry.
How will online companies get around this problem? There are no easy solutions - the companies themselves created the deal seeking mindset, but a discount-led model isn't a long term answer. The firms are going to have to experiment with new ways to make their offerings stand out, and make a case for themselves beyond discounts. At that point, a "festive" sale will make sense - and the companies would perhaps even be able to afford to offer some real deals. For now though, all deals are easily 80 percent off - in other words, you can safely ignore eight out of ten deals.
Disclosure: Gadgets 360's new Shop section may be seen as a competitor to the e-commerce sites mentioned in the article.
Affiliate links may be automatically generated - see our ethics statement for details.