India's biggest cities - Mumbai, Bengaluru, Delhi, and Chennai - weren't really built to cope with the immense stress that they now face thanks to increasing population. Traffic is a particular problem and a recent excursion to the Surge Conference in Bengaluru showed that things are getting downright dystopian here in Bengaluru, and unlikely to get better. Held at Manpho Convention Centre on February 24th, the venue is located on a lane that saw thousands of additional commuters headed on a narrow approach road next to Manyata Tech park, which already hosts around 80,000 of the city's tech professionals. The resulting traffic jam from the two huge intersecting tides of humanity felt like Kumbh Mela meeting Mad Max.
Cabs inched along through Bengaluru's jammed by-lanes at what seemed to be 12.67kmph; you might get around faster on foot. Hordes of bikes and scooters stoically bore the punishment of being stuck under a tunnel, getting gassed by trucks and buses. The last kilometre was marked in red on Google Maps, and felt like a blood cell inside a massive cardiac arrest. The Surge conference reminded me of the city's worst problem, something its tech workers endure on a daily basis. It's exacerbated by an ineffectual metro system that covers a fraction of the city. This isn't a problem that's going to be solved by an app, or a smart hack. Whatever transpired at the Nasscom smart city hackathon in 2015, it didn't seem to help.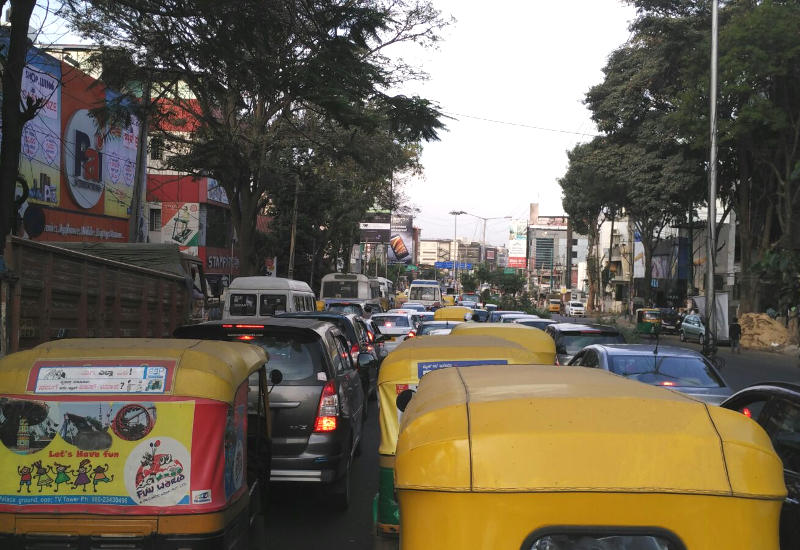 The fastest average vehicular movement speed in India is 23kmph, according to data crunched by on-demand taxi aggregator Ola, so this is clearly a problem that all of India's metro cities face. Studies abroad show that widening the roads doesn't improve average road speeds either. So what works then? Matthew Turner, a US-based economist reckons that congestion pricing, a form of surge pricing applied to roads can be more effective in curbing road traffic.
A more feasible solution to traffic woes lies in the Internet, and it's power to solve the last mile problem. It's a feasible option for a lot of professions, especially with Internet companies, who can easily implement remote working agreements with employees. Bandwidth isn't as scarce as it used to be five years ago - plenty of ISPs in our metros provide wired broadband at 100mbps speeds at less than Rs. 2,500 a month, post taxes. A 50mbps connection with a 75 GB data cap will cost you around Rs. 1,600, depending on the city you live in. Uptime accounts vary - the last time I experienced downtime was on January 21st. And getting around that means either investing in a second connection with a load balancing router, or getting a 4G dongle, and of course, a reliable power backup. It sounds like a pretty major investment, but compared to the costs involved and the time and effort wasted every day on your commute, this looks pretty reasonable.
Many smart, leading tech companies now work this way - the top 100 list of companies who provide remote jobs includes Apple, Xerox, IBM, Amazon, IBM and SAP, so this approach shouldn't seem all that heretical to a HR manager. The road infrastructure of our cities has been pushed to its limit, and is unlikely to ever be able to support its citizens. For smart cities, we need smarter companies too - it's time Internet startups and tech companies figure out at how they can make their businesses sustainable, unburden their employees from the drudgery of the daily commute, and save their energies for actual work.