In October, when Yahoo had revamped its webmail service, it removed the Tabs interface. Yahoo says that the decision was taken on the feedback given to the company, as some users felt they were difficult to manage when a lot were open.
The Yahoo Mail Tabs feature was replaced by a 'Recent view' one, to swiftly toggle between emails, drafts and search results.
The company says that although people liked the new interface, some of the feedback suggested that quite a few users miss Tabs. So, it decided to bring back Tabs but in an improved way. Yahoo says, on its official blog, "We're bringing back tabs, but this time, they're a bit smarter."
Users who liked the 'Recent view' feature needn't worry that it is gone, as they will be able to choose between it and the Tabs interface. The old complaint by the users about having difficulty in viewing while a lot of tabs are open, has apparently been addressed by the company, with the new 'Preview All' option.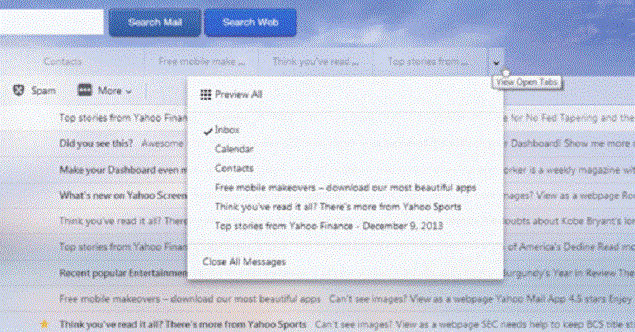 Users globally might not able to see the new and improved Tabs interface right away, as Yahoo on their blog says that they will be rolled across the world over the next few days.
Previously, Yahoo was in news for their webmail service outage, which lasted for over four days. Many people said they couldn't retrieve emails from their inboxes or complained that emails were not being delivered, even after fixes started being rolled out. Yahoo chief Marissa Mayer had to post an apology for a "frustrating week" experienced by millions of Yahoo's email service users.
For the latest tech news and reviews, follow Gadgets 360 on Twitter, Facebook, and Google News. For the latest videos on gadgets and tech, subscribe to our YouTube channel.
Related Stories