Twitter is reportedly updating search on the Web version of its service to offer a universal search-like experience, displaying photos and accounts in results, in addition to recent searches and social context, as users type their query.
The update was
announced
by Twitter through its official handle. Following the update, which is being rolled out gradually to all users, the search experience would be inline with Twitter's mobile experience.
As
reported
by Search Engine Land, the changes in the search experience include People results (Twitter accounts/ handles) being displayed with search results on the top, and photos also now being made part of the search results. Instead of the Tweets, People and Top Photos filters on the left pane, the new search listings page will feature Results, People and Photos filters.
As per the report, the new search listings page will first display People results, followed by the top 3 tweets around the topic, then Photos results which are followed by more Top Tweets.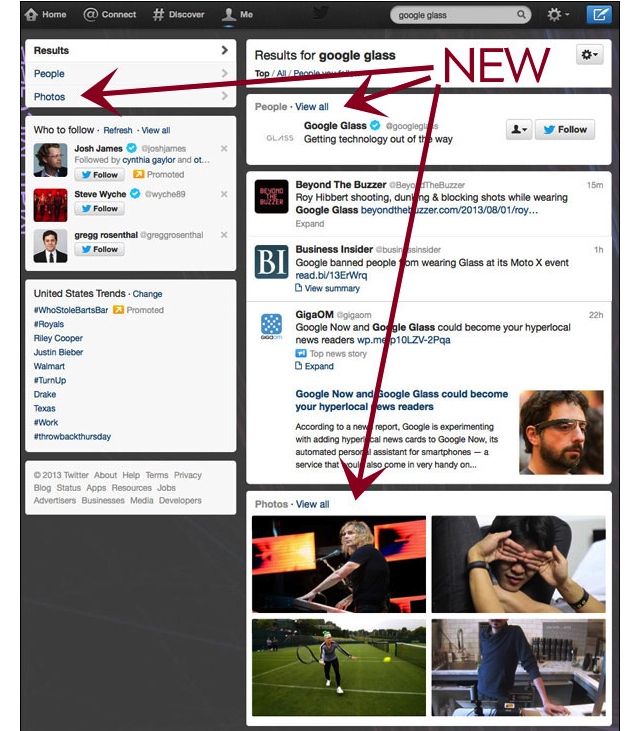 The search box also includes drop downs for Recent Searches and Saved Searches, and when a user started keying a term (or a name), Twitter also tells the relationship between the user and any existing accounts that feature the term, if any. For instance if you search for NDTV, Twitter will also display NDTV accounts and mention that you follow them, if indeed you do.
We haven't been upgraded to the new Search experience, at the time of writing this post. Through the update, it appears that Twitter wants to streamline the Search experience on the service displaying relevant content, tweets, accounts to make the overall user experience richer.
For the latest tech news and reviews, follow Gadgets 360 on Twitter, Facebook, and Google News. For the latest videos on gadgets and tech, subscribe to our YouTube channel.
Related Stories