The Spero electric bike, made by Coimbatore based Milltex Engineers, promises to be a smart alternative for the urban commute, but it doesn't come cheap with the base model starting at Rs. 29,900 for the first 30 units, after which the price becomes Rs. 33,900 against an MRP of Rs. 55,000. The bike is being crowdfunded, with a target goal of Rs. 30 lakh, and 9 days to go.
The different Spero models go up to Rs. 84,900 (at retail). Despite the relatively high price there is clearly a fair amount of interest in the idea, as it's nearly raised its crowdfunding goal with 102 backers and over a week left.
So what exactly is the Spero, and why should you be interested? It's a smartbike concept that can be charged from a regular 5amp socket just like your smartphone, which you can then drive between 30km and 100km on a single charge, depending on the model you buy. And at the same time, it comes with pedals so you can just go to manual mode when the battery runs low.
"Working within the manufacturing has given me the knowledge and expertise with handling machinery and sourcing materials that work best with this e-bike," says the company's founder Manikandan. "All these things together has helped me to build a strong and reliable e-bike at affordable prices without having to compromise on quality."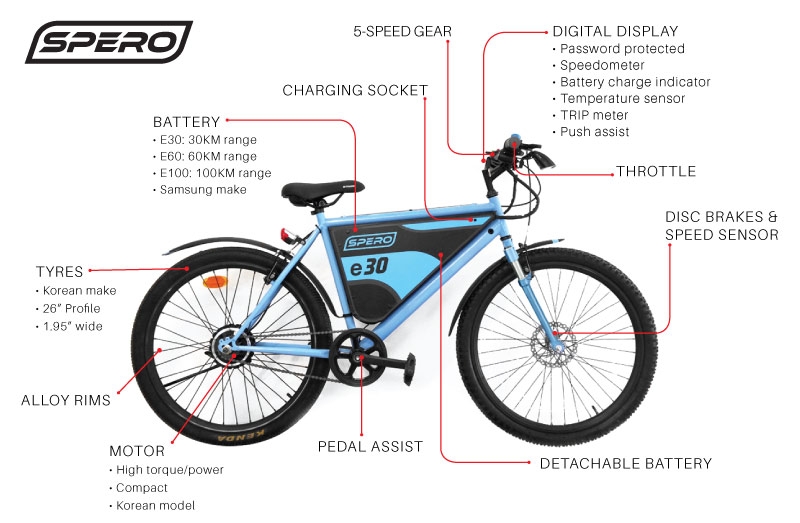 The idea behind such a product is simple - a powered bicycle is small and lightweight so it's quite portable. For many of us, it's also all that's really required for the morning commute - and if enought people adopt the technology, it can have a significant impact on pollution, traffic congestion, and maybe even public health by promoting a healthier lifestyle.
That's the idea anyway. Given Indian conditions, it's not really clear how practical a bike like this is for most people, but for a growing section of urban corporate executives, it does make sense, and biking as a hobby is also growing in India, if the number of cyclists in expensive protective gear that you can see on the road are any indication.
And that appears to be the market that Milltex Engineering is also looking at with the Spero, whose crowdfunding page makes a point of highlighting the "cool, funky design", before going on to the technical specifications. Here's a video of the pitch:
The bike has a top speed of 25kmph, and reaches that in 10s; when the motor is running, it comes with 5-speed gears, and the whole thing is powered by a 48KV lithium-ion battery that comes with a two-year warranty. When your battery is low, you don't need to bring the whole bike into your home or office to top it up either - the battery is detachable, and Spero claims that it charges from 20 percent to 80 percent in six hours.
The electric motor can also be used for pedal assistance - that means that you're manually pedalling, but being helped along by the motor - this will save the battery but still not tire you out as much as regular pedalling would. There's also a regenerative mode that charges up the battery while you pedal, though details of how much of an effect this would have are not given.
At the same time, the bike also uses standard bicycle tyres, cables, and guards, so you can swap the different parts out, repair and replace anything without needing to contact the company.
The bike, which is manufactured in Coimbatore, uses mostly local components, though the tyres are Korean, and so is the battery, which comes from Samsung. The company claims that it will deliver the first 50 bikes within a month of the campaign ending, and the remainder over the next two months, at a capacity of 50 bikes per month.
If you want to back the bike, you have 10 days left. You can choose to back the Spero e30, Spero e60, or Spero e100, which have a range of 30km, 60km, and 100km respectively, for Rs. 29,900, Rs. 36,900, and Rs. 47,900. The e30 and e100 still have some early-bird bikes left, though once those are gone you'll have to pay Rs. 33,900 and Rs. 50,900 respectively.