E-commerce marketplace Snapdeal announced its own browser-based 'Lite' experience on Thursday, four days after Flipkart Lite went live. It is however aimed at being optimised for slower Internet connections, rather than provide app-like features.

Unlike Flipkart Lite, which only works on Chromium-based mobile browsers (Chrome and Opera), Snapdeal Lite is live for 100 percent of its users, Anand Chandrasekaran, Chief Product Officer at Snapdeal told Gadgets 360. "We have always stood for choice and this is another example of a better mobile experience across all browsers," he said.
Based on statistics pulled by Statcounter, Flipkart Lite can be accessed by less than half of India's mobile Web browsers right now, though Flipkart says that support for other browsers is coming in the future.
Users can access the Lite version at the footer of the Snapdeal.com browser webpage, and only need to do it once. Subsequent visits happen on the Lite version of the website by default.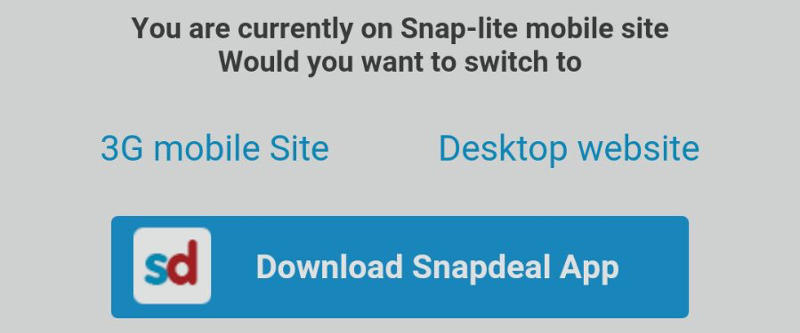 Snapdeal's Lite version however doesn't seem to have the app-like features of Flipkart Lite - such as the ability to add a shortcut on the home screen, push notifications, and offline functionality.
The user experience is 85 percent faster for users with slower connections, and is based on the HTML5 spec, Chandrasekaran said.
Snapdeal and Flipkart have a prior history of countering each other's features. In September, Snapdeal launched its one hour refunds feature a fortnight after Flipkart's announcement of its instant refund mechanism facility, which had a turnaround time of 24 hours.
For the latest tech news and reviews, follow Gadgets 360 on Twitter, Facebook, and Google News. For the latest videos on gadgets and tech, subscribe to our YouTube channel.
Related Stories