Microsoft has successfully completed the transition of migrating Hotmail users to Outlook.com.
The company
informs
that it has over 400 million active Outlook.com accounts, including 125 million that are using email, calendar and contacts on a mobile device using Exchange ActiveSync. Microsoft claims that it was able to migrate about 300 million Hotmail accounts equaling exchange of more than 150 million GB of data preserving users' mail, calendar, contacts, folders, and personal preferences, in 6 weeks time.
Microsoft has also announced new features for Outlook.com users including the ability to send mail via SMTP and deeper integration with SkyDrive.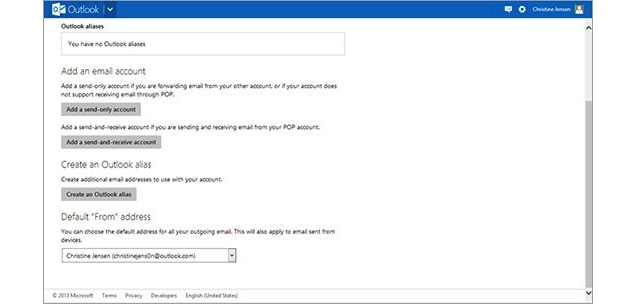 With SMTP send, users will be able to send emails with different email address without the recipient knowing that the email was sent from their Outlook.com address. Earlier, the 'from' field used to display the user's other email ID as well. Now the mail goes through the other service's SMTP server directly. Users can configure to just send or send and receive another email ID's mail via Outlook.com through their Mail settings. Microsoft will be rolling out the new SMTP send capability worldwide in the coming weeks.
The Redmond giant has also added deeper SkyDrive integration to Outlook.com's compose screen. Users can now choose files directly from their SkyDrive and the service will automatically insert right thumbnails with links that have the right permissions for specific people that receive the email. If users insert pictures from SkyDrive, the service generates a photo mail automatically, allowing users to edit the message, and add or remove files and pictures from the new message compose screen. The integration has started rolling out and will be available across the world in the coming weeks, according to Microsoft.
For the latest tech news and reviews, follow Gadgets 360 on Twitter, Facebook, and Google News. For the latest videos on gadgets and tech, subscribe to our YouTube channel.
Related Stories