Microsoft has started rolling out an update for its Outlook.com Web-based email service, bringing some new features that will make it easier to use.
As a part of the update, Outlook.com will sport the 'Advanced Rules' feature - a way to create multi-condition and multi-action rules in the user's mailbox for better organisation.
Some other options have been added to Advanced Rules in the Outlook.com update, such as time constraints, email tallying, checking read/ unread state of emails and checking if the mail sender is someone the user knows or not.
Outlook.com now also includes the 'Undo' feature, previously seen in Google's Gmail service. The feature would enable users to move one step back in case they mistakenly drop a particular mail in a different folder, or delete it. Some other tasks that users can undo are: categorize, flag, mark as junk, or move-for one email or a whole group. One just needs to press ctrl+z (on Windows) or click the undo button.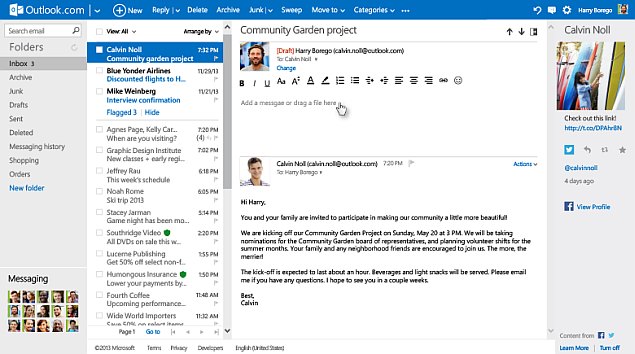 The also new 'In-line reply' feature (see above) enables users to reply to a particular mailing thread without opening a new view, says the Microsoft official blog post. This in-turn will save time and let users track conversations more easily.
Several improvements have been made in the Outlook.com chat system as well.
-Users can now find recent conversations and other contacts they can chat with in the bottom left of their inbox. One click will launch them straight into a conversation with other users.
-If a user is chatting with a friend on one service, but want to continue the talk on another service, now they can switch over from right inside the chat session.
-Users can browse their 'People' list of contacts by filtering what service they are using (Skype, Facebook etc.). Users can even see who's currently available-Icons will now appear alongside names, so users know who's able to Video, Call or just chat.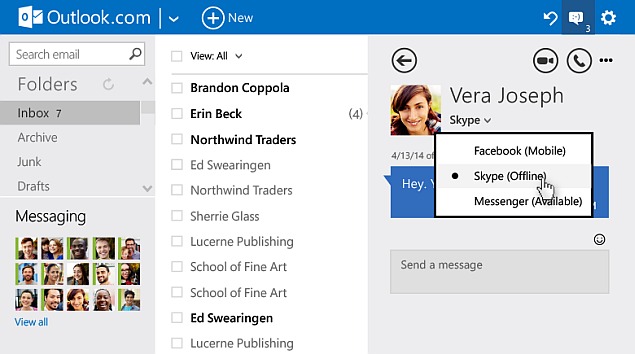 Microsoft last made some changes in its Outlook.com mail service back in September 2013. The Redmond-based tech firm announced and listed the server settings that users will need to use to get IMAP support setup for their Outlook.com account.
IMAP, or Internet Message Access Protocol, is one of two popular email retrieval protocols that helps users keep various devices in sync with the same email account (or mailbox). The other popular protocol is POP (Post Office Protocol), which offers far fewer features compared to IMAP.