After renaming its cloud storage service SkyDrive to OneDrive, thereby settling the conflict with British Sky Broadcasting Group, Microsoft has now introduced the all-new OneDrive for Business.
Microsoft, during the SharePoint 2014 conference on Monday, announced OneDrive for Business, along with licensing and pricing details. OneDrive for Business can now be adopted as a standalone product and will also continue to be available as a part of a number of existing Office 365 plans. OneDrive for Business was formerly SkyDrive Pro, and requiring a business plan of Office 365 for desktop.
With the new offering, the company wants to attract new business users to its cloud storage technology. Also as a standalone product, it will likely compete with existing services like Dropbox and Box. The new OneDrive for Business provides similar file sync, sharing, and storage services like others.
Microsoft is also boasting of new features in OneDrive for Business (over SkyDrive Pro), such as simpler, more intuitive one-click controls, Site Folders view to visit document libraries of sites, improved search with auto-complete and result actions, easier access Web-based access, and improved connectivity and configuration options with SharePoint Server 2013.
The company is also promising new features on the horizon, such as advanced auditing and reporting features, encryption at rest, data loss prevention (DLP), extensibility improvements, even higher storage limits, and more. Microsoft says its long term goal is to make deeper cross-Office 365 experiences, and position OneDrive for Business as the "best file, sync, share, and collaboration solution available".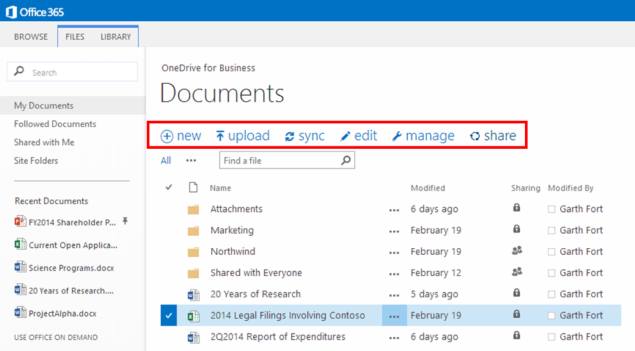 Microsoft is initially offering the OneDrive service to business users at a 50 percent discount to regular charges for a limited period of time. From April through to September, the service will be available at $2.50 per month per user for all licensing agreements and programs.
Also every user will receive 25GB of online storage and Office Online as part of the plan. Further adding another 50GB will cost $25 per year, 100GB for $50 or 200GB for $100. For existing Office 365 ProPlus agreements the price will only be $1.50 per user per month. Microsoft also says OneDrive for Business is also available in (and included with) most Office 365 and SharePoint Online plans at no additional cost.
"Not only is OneDrive for Business a simple and intuitive file sync and storage solution for employees, it's a trusted service that provides enterprise-grade content management, compliance, and administrative controls, and it is financially backed by the industry-leading Office 365 Service Level Agreement," said Julia White, the General Manager of Office in a blogpost.