The term 'leapfrogging' is often used to describe the growing use of mobile Internet in India, and nothing illustrates leapfrogging more clearly than the fact that India is now the most 'mobilised' country in the world when it comes to e-commerce. According to Kleiner Perkins Caufield and Byers (KPCB) Digital Growth Funds head Mary Meeker, companies like Snapdeal and Flipkart today see close to 70 percent of their business coming from mobile, while Chinese companies like Alibaba are closer to 50 percent. According to Meeker's 2015 report on Internet Trends, eBay's global figure for mobile sales as a percentage of total sales (by value) is closer to 30 percent.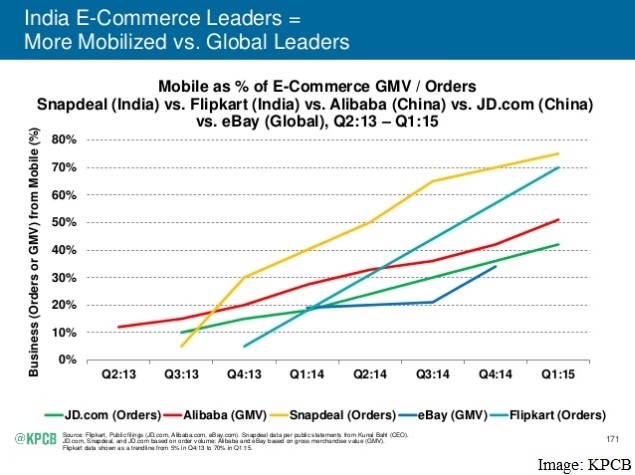 Taken as a whole, mobile-commerce as a percent of the total e-commerce value is highest in India, around the world, topping 40 percent. China comes second, at around 35 percent, while the UK, France and Brazil follow at around 20 percent. The USA sees just about 15 percent of the value of e-commerce transactions happen on mobile.
The significance of this kind of leapfrogging means that businesses can't simply look at what works in the US and try and replicate it in India anymore - today, when companies like Flipkart shutter their mobile websites and Mytra goes app only, it's something that gets discussed in the rest of the world which is trying to predict how customers behave in a mobile world.
And while the majority of e-commerce in India is still taking place on desktops, the users themselves are not just mobile-first, but largely mobile-only. According to Meeker's report, 65 percent of the total Internet traffic in India is on mobile - second only to Nigeria, where the figure is a whopping 76 percent. After India, you have South Africa and Indonesia at 57 percent, and Poland at 52 percent. In contrast, the UK and the USA are at 23 and 22 percent respectively.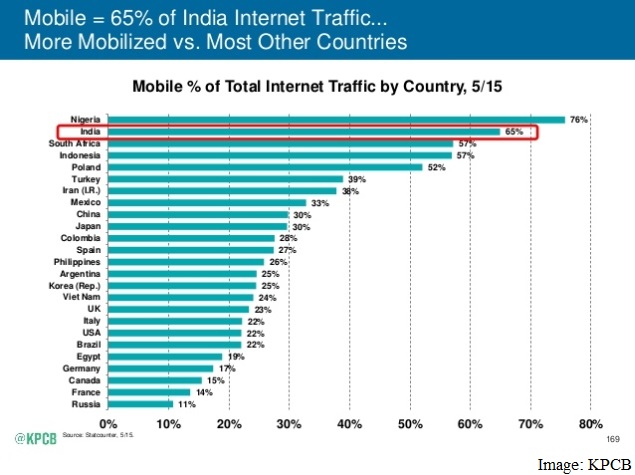 Meeker's report also shows how India's large population is getting online now, and making its presence felt on global sites. According to the report, India is now the second largest market for Facebook, with 112 million monthly action users; and the second largest for LinkedIn, with 24 million monthly active users. It's the largest market for WhatsApp, with 70 million monthly active users, and there are also 70 million monthly users for YouTube. It's also the fastest growing user market for Twitter, the report states.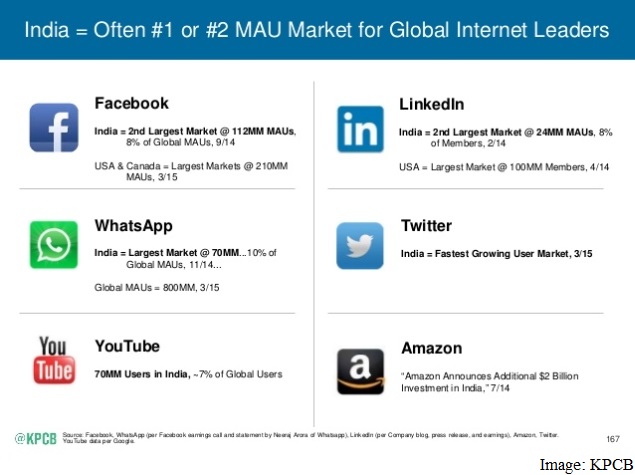 With mobile becoming a preferred destination for innovation - the most watched companies of today are mobile first (or mobile-only) companies like Uber, Snapchat, and WhatsApp, this report seems to show that after the US and China, India could well become the next centre of global investment and innovation.