Microsoft has released its second 'Law Enforcement Requests Report', detailing country-based data request numbers received by
Microsoft
for its online services, including Skype. The report covers the period from January to June 2013.
The Redmond giant mentioned that it was not "currently permitted" to provide details about the type and volume of any US national security requests, (e.g. FISA Orders and FISA Directives). The company has instead been allowed to release only the aggregate volume of National Security Letters they have received, as per government direction.
In total, Microsoft (including Skype)
claimed
it received 37,196 requests from law enforcement agencies across the world, which it said potentially impacted 66,539 accounts. These figures were compared to 2012's annual figures, where Microsoft received 75,378 requests that potentially impacted 137,424 accounts.
According to Microsoft, roughly 77 percent of the requests resulted in the disclosure of "non-content data," while 21 percent had no data disclosed at all. The remaining 2.19 percent of requests did result in the disclosure of customer content data, of which 92 percent were from US law enforcement agencies.
Microsoft also revealed that 73 percent of all request came from just five countries, namely, France, Germany, Turkey, the United Kingdom, and the US. Specifically for Skype, 70 percent of the requests came from four countries (excluding Turkey from the above list of five).
Speaking about requests for data from the company's enterprise services, Microsoft said they globally received just 19 requests from the US for 48 enterprise e-mail accounts of customers located in the US. In these cases, Microsoft admits to having disclosed customer data for five of these requests, notifying customers in four cases.
In the case of India, local law enforcement and government agencies made a total of 321 requests (including Skype), pertaining to 515 user accounts. Excluding Skype requests, Microsoft disclosed subscriber/transactional data for 80.6 percent of the requests, rejected 3.2 percent of the requests, and reported "No Data Found" for 16.2 percent. Check out the figures in infographic form, below: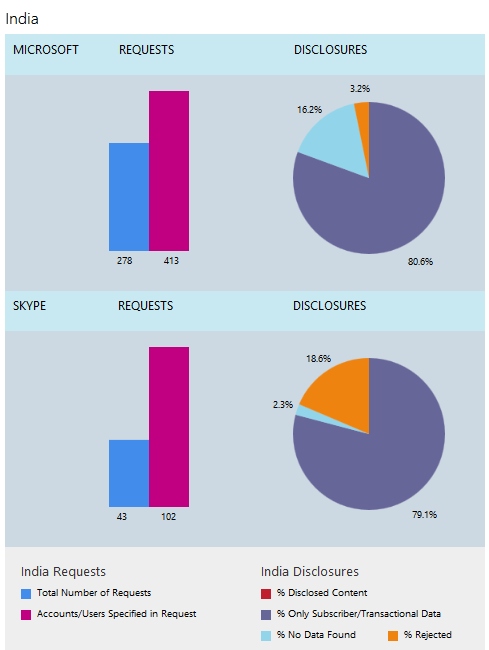 Affiliate links may be automatically generated - see our ethics statement for details.