Google never stops surprising its users. in a latest set of what it calls a Chrome experiment, Google lets users turn their smartphones and tablets into a gaming controller for a multiplayer game titled Super Sync Sports. And boy is it fun!
The technology for the game is based on a combination of HTML5, CSS3, WebSockets and Google App Engine which allows players to enjoy the game without additional plugins.
Here's how this works. To get started, users need to open chrome.com/supersyncsports on the desktop and mobile browsers. The game supports Chrome for Android 4.0 or later, Chrome for iOS 4.3+, Firefox version 15+ and Safari version 5+ on mobile devices. For desktop, it is compatible with Chrome version 15+, Safari version 5.06+ and Firefox version 10+.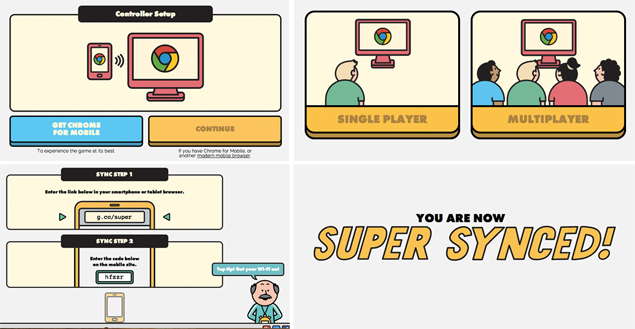 Players must login to the game on their browsers on both desktop and mobile. They then need to choose from any three races - running, cycling and swimming followed by preferences for single or multi-player modes.
Players will be prompted to enter a link into their mobile browser with a code. Once they hit the sync button on their mobile devices, they'll be "super synced" with their desktop browser. Players can also send invite codes to friends to join up to four gamers in one session.
Users can choose from a collection of 45 adorable-looking and quirky characters each unique in their own way. You can elect to be a Rare House Maxi Raymond an LP vinyl record who "knows his music trivia" and is "uncomfortable with silence".
Or you can also be Mr. Bald Eagle who is "Born in the US of A" and has a "big mouth". Other such wacky characters include a slab of steak, a hipster-looking dude "stuck in the 1870's" with a sweatband and handlebar moustache.
The game has really upbeat and funky music that will set the mood right away. Each sport has its own set of gestures that need to be used in order to win the races.
Cycling is the toughest, involving the use of gestures with two fingers of the same hand in a simultaneous circular motion. The faster and more uniformly you make these gestures, the faster the character swims.
The game has Facebook, Twitter and Google+ integration allowing players to flaunt their scores socially. So let the games begin!
Check out the awesome video to know how it's done and "get ready to race".