Google on Wednesday has added a new feature to its Gmail Web-interface, bringing a new Hangouts tab that allows users to see which of their contacts are online first, before the offline contacts. Alongside, the company revamped its News & Weather app for Android.
With the new Hangouts tab in Gmail, users can now also pin a contact to the top of the list. Like previous iterations, users will be able to send a message to offline contacts, which will be delivered to them whenever they check Hangouts on any device.
Google has noted that the update will be rolling out over the next few days. Google says users who haven't switched from Google Talk to Hangouts in Gmail, can do so via the 'Try the new Hangouts' option in chat settings.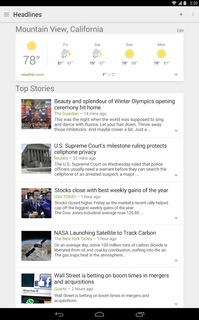 Meanwhile, Google has also revamped its News & Weather app for all devices running Android 4.0 or higher. The updated version 2.0 of the News & Weather app is now available on Google Play in India. It brings a Google account sign-in option for personalised news along with improved support for tablet devices. The signed-in account and the news menu can be accessed from left slide-out navigation toggle, similar to the Google Drive interface.
Google adds that users can navigate sections with simple swipes. The update also brings a help & feedback option along with quick access for add and remove news sections, which can also be accessed from the top-right corner menu.
The weather information can now be seen on the top of headlines and users will also get detailed weather data when tapped. Users will also be able to 'expand stories for snippets and related articles' in the updated News & Weather app. The update also lets users change a country edition for the news, and get weather updates for multiple places.
Google has also brought two new sizes of widgets for the News & Weather app - 4x1 and 2x3 widgets, while previous 3x1 widget has been removed in the update.
For the latest tech news and reviews, follow Gadgets 360 on Twitter, Facebook, and Google News. For the latest videos on gadgets and tech, subscribe to our YouTube channel.
Related Stories