Google has updated its Trends service, giving users access to real-time data. The search engine giant says other new features include a revamped, story-centric homepage and curated data sets.
The Mountain View firm's News Lab team in a blog
post
on Wednesday said the update to Google Trends is the biggest expansion since
2012
, and helps users get a better sense of what stories people are searching for.
Google
adds the changes it has introduced to
Google Trends
are based on the feedback it has received from "hundreds of journalists and others around the world."
Google added, "whether you're a reporter, a researcher, or an armchair trend-tracker, the new site gives you a faster, deeper and more comprehensive view of our world through the lens of Google Search."
The firm says with the real-time data now introduced in Google Trends, users will be able to glean data from the roughly 100 billion searches its processes each month, and adds that users can now set custom data and time filters within the past week.
Google Trends' new story-centric homepage, which features a ranked and real-time list of trending stories, is currently available in 28 countries around the world including India. The firm will add more locations in the "coming months".
Adding trend data from YouTube and Google News, the search engine giant says the "breadth and coverage" of Google Trends has been increased to provide more data on more "more niche topics in smaller geographies."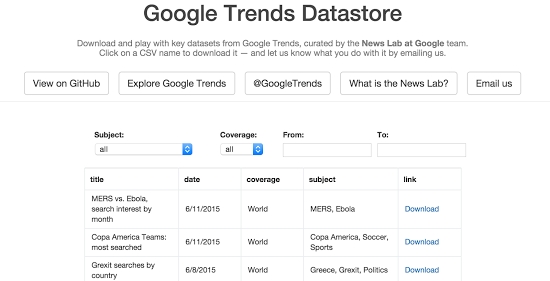 Google says its News Lab team examines trending topics every day and posts its analysis of trends that stood out as curated data sets. For data journalists specifically, Google says from Wednesday it will be publishing data sets on specific topics to its Github
page
.