Google is reportedly testing a tool that will let you pay bills directly from your Gmail inbox.
According to a Re/ code report on Tuesday, the tool or service is presently codenamed Pony Express and is under development.
With the Pony Express service, Google is aiming to provide an easy tool for people to pay bills directly from their Gmail inbox as well as the Inbox by Gmail service.
Re/ code claims to have seen the documents concerning Google's Pony Express service, documents that indicate the service is scheduled to start in the fourth quarter.
As per the documents, Pony Express will ask Gmail users to provide personal information such as name, address and partial and full social security number to a third-party company which will then verify the user's identity. Users might also have to provide information such as account/ credit/ debit card number or something similar to get started, notes the report.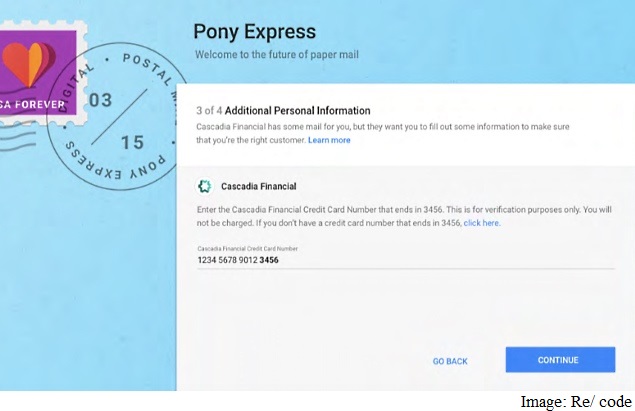 After authentication, users will start receiving bills in a particular folder of Gmail or the Inbox by Gmail, from where they can pay them directly. For now, the Google is said to be talks with third-party vendors that print and mail out bills on behalf of service providers.
It's not clear whether the service will also take advantage of the existing Google Wallet payment service, or will tie-up with Google's upcoming Android Pay, which is expected to be unveiled during Google's I/O conference in May.
For the latest tech news and reviews, follow Gadgets 360 on Twitter, Facebook, and Google News. For the latest videos on gadgets and tech, subscribe to our YouTube channel.
Further reading:
Android Pay
,
Apps
,
Bill Payment Services
,
Bills
,
Gmail
,
Google
,
Google Wallet
,
Inbox
,
Inbox by Gmail
,
Internet
,
Online Bill Payment Services
,
Pony Express
Related Stories