Popular video-sharing website, YouTube, went down for around thirty minutes on Monday, following a server outage, and returned a '500 Internal Server Error' to users who tried to load the website.
Below the error message, a humour infused message saying "Sorry, something went wrong. A team of highly trained monkeys has been dispatched to deal with this situation," greeted users.
It further said, "If you see them, show them this information," mentioning the code of the error message.
According to a
report
by the New York Times, the site went down for nearly thirty minutes. The reaction to the downtime was almost instant on social networks like Twitter with users tweeting tongue-in-cheek posts.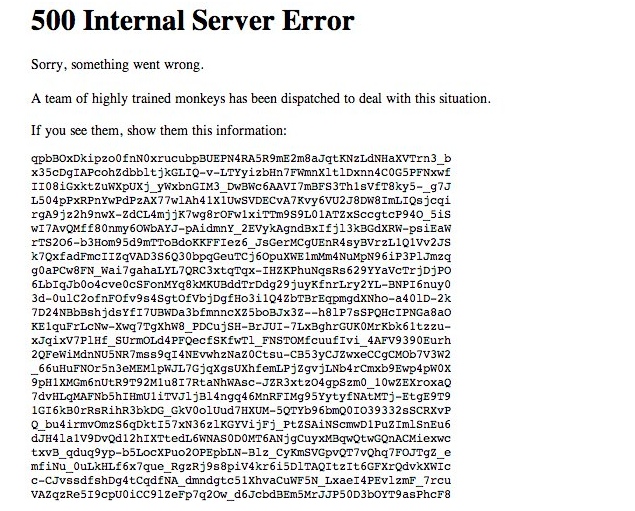 A YouTube spokeswoman later sent an email statement to the publication, acknowledging that the company was aware of the downtime, and offered an apology. It said, "Some people encountered errors, or a slower than normal experience on YouTube today. We worked quickly to address the issue and fixed the problem. We're sorry for any inconvenience this caused."
It's worth pointing out that YouTube embeds continued to work without issues.
YouTube recently started
rolling out
a new commenting system based on Google+ after
announcing the changes
in September. It says that those sharing videos will be able to use "new tools" to help filter out "unwelcome voices." The new tools allow posters to review comments before they're posted, block certain words or save time by auto-approving comments from certain fans.
It also puts relevant and high quality comments at the top while troll comments are put at the bottom.
The site now also requires commenters to login with their Google+ credentials before posting comments. Apparently, there are a large number of petitions against the new commenting system that forces Google+, the Internet giant's struggling social network, on users of YouTube. An online petition on change.org has hit nearly 200,000 signatures, according to a new
report
by the Telegraph.