Google has teamed up with a startup called Panzura to offer 2TB of free cloud storage for 12 months. In order to access free storage, users will have to install cloud gateway software from Panzura first.
The only catch here is that Google offer covers access only from one location using Panzura, but if users need to access their cloud storage from multiple locations, they'll have to pay Panzura, but Google still won't charge anything.
"This is a way for customers to try something new, especially if they have had some kind of aversion to using the cloud in the past," said Chris Rimer, Global Head of Partners for Google Cloud Platform, told WSJ.
In March, Google had lowered the prices of paid plans of its Drive cloud storage service.
It is now charging $1.99 (Rs. 120 approximately) per month for 100GB storage from $4.99 per month previously, $9.99 (Rs. 600 approximately) per month for 1TB storage (previously $49.99), and $99.99 (Rs. 6,000 approximately) for 10TB storage.
Amazon on the other hand offers 1TB of storage at $120 (Rs. 7,100 approximately) per year, while 100GB OneDrive storage by Microsoft costs $50 (Rs. 3,000 approximately) per year. Dropbox charges $9.99 (Rs. 600 approximately) a month - or $99 (Rs. 6,000 approximately) a year if paid annually - for 100GB of storage.
Panzura, a California-based storage company which used to sell its cloud gateway software, has also started offering it free of charge from Wednesday. The company is also known to help Amazon and Microsoft data centres to store data remotely and provides tools to access it with their existing software programs.
"Our hope with providing cloud gateways for free is to help people understand that the real value of cloud storage is acting as a collaborative fabric for cross-office collaboration and not as a cheap digital attic," said Barry Phillips, Chief Marketing Officer, Panzura.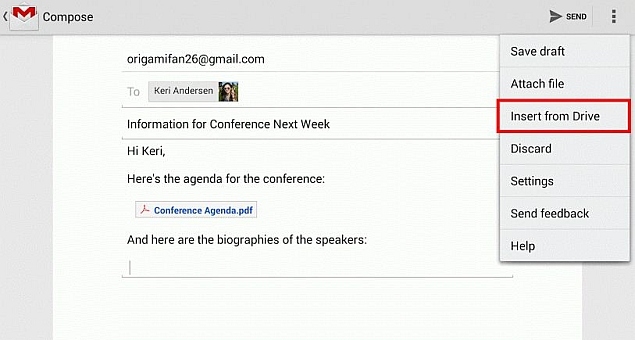 Google on the other hand has also added feature to insert Google Drive files directly into Gmail messages on Android devices. It will also ask users to share a file with recipient if it's not shared already and will offer an option to change file sharing settings. The option, called Insert from Drive, comes with another update to the Gmail app for Android, namely improved autocomplete suggestions for contacts.
The company noted on a Google+
post
that "these features will be rolling out over the next few days" to its
Gmail app
. Those who can't wait for the roll-out, can get the update Gmail v4.9 app
from
Android Police which has the signed apk from Google.