According to a post by Marques Brownlee on Google+, Google has started rolling out the voice to text dictation feature on Google Drive, or Google Docs as it was formerly known. The user shows four purported screenshots of the voice button within the Google Drive menu.
There are no details on when the voice-to-text dictation service will be available to all users, but we think that it will be a gradual rollout once its officially announced, like other updates from Google.
"You saw it here first - Google Docs is getting Voice typing" Brownlee wrote.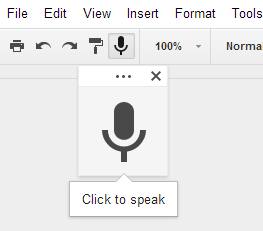 Since there is no official announcement about the update to Google Drive as yet, no further details about the service are available. The purported images only showcase the voice-assist feature, which is likely to be the same as seen on different Google services (and the Android version of Google Drive).
Last week, Google brought its the voice-assist feature to its Chrome Beta version, for search.
The voice-search feature in Chrome Beta will let users activate search via the 'OK Google' voice command (first introduced in KitKat via the Google Now Launcher) followed by a question or search query. Besides performing searches and having their questions answered, users can also use their voice to set timers or create reminders.
To enable the OK Google voice-assist feature, one can visit Google.com in Chrome, and click on the microphone icon placed on the main Google search bar.
Last year in November
, the company also added the total handsfree search to Chrome through the Google Voice Search Hotword extension. The feature was
first showcased with conversational search
at the Google I/O event in May 2013, but didn't have the complete handsfree search. It had rolled out the extension for Chrome for Mac, Windows and Linux with the updated version (version 27) of the browser, later that month.