Google is rolling out a revamped Gmail to all its users starting today promising to put them back in control of their inbox.
The revamped interface that would make its way to the web as Well as to mobile versions of Gmail, in addition to apps for Android and iOS. The new interface allows users to filter mails and group them into categories such as Main, Social, Offers, Notifications, and Forums, depending on their preference through a tabbed interface. Users can select the tabs that they'd like to keep, drag-and-drop to move email messages between them.
They can choose to keep mails from a particular sender to always appear in a particular tab and can star them so that they also appear in the Primary tab. So, users would be able to keep update emails from their social networks under one tab, while they can keep their personal mails in one, mails related to forum threads in another and business mails in another tab.
The changes will also be pushed to Gmail's Android app (for Android versions 4.0+) and iOS apps. The apps will feature a slider menu that will feature the category folders with colour coded smart labels.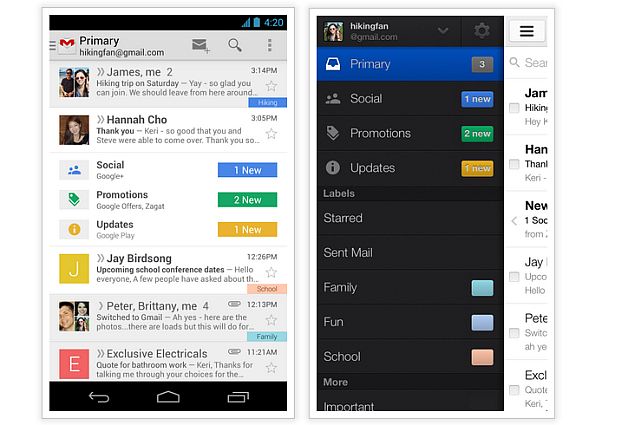 The new redesign will be rolled out gradually and will become available within the next few weeks, according to Google. Users might even get early access to the redesign on the desktop interface and can switch to it via the 'Configure inbox' option in the settings. So they can keep a watch on the gear menu.
Users who don't like the new redesign, can switch off the optional tabs and go back to the classic view interface of Gmail.
The redesign was first revealed during the Google I/O event and details leaked following that, so the redesign was pretty imminent.
For the latest tech news and reviews, follow Gadgets 360 on Twitter, Facebook, and Google News. For the latest videos on gadgets and tech, subscribe to our YouTube channel.
Related Stories