Flipkart, leaving no stone unturned to cash-in on the growing Internet shopping trend in India, has now introduced Flipkart First - an annual subscription service for frequent shoppers. Notably, the Flipkart First service is similar to the
Amazon Prime premium subscription service
in the US, and it will be interesting to see if this forces Amazon to bring Prime to India.
Flipkart notes that the First service will be soon launched in India, and will offer exclusive benefits, alongside giving access to priority service for customers. Unfortunately, Flipkart has not revealed pricing details of its Flipkart First service.
According to the e-commerce giant, the Flipkart First annual subscription service will offer customers unlimited access to In-a-Day Guarantee delivery; free standard delivery with no minimum purchase price; Same-day Guarantee delivery at a discounted price, and a bonus 60-day replacement guarantee, instead of the usual 30-day period.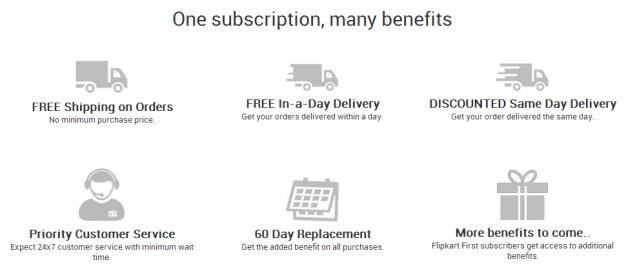 In addition, the Flipkart First annual subscription service will also offer customers' access to priority customer service with minimal waiting period.
In contrast, Amazon Prime service offers customers in the US a free two-day shipping on orders with no minimum order size. It even gives access to unlimited instant streaming of movies and TV shows with Prime Instant Video (available in US) and also offers free books every month via Kindle First and the Kindle owners' lending library. Amazon Prime annual subscription service is available at $99 (Rs. 6,000 approximately) for one year.
(Also see: Flipkart Seeking to Quadruple its Seller Base by Leveraging SMEs)
Flipkart as a promotional offer is giving 75,000 customers, who will be selected randomly on May 20, a free 3-month subscription to the service.
The official Flipkart First page notes that the benefits on the annual subscription are only applicable for purchases from WS Retail, as of now.
Earlier, after rolling out guaranteed one-day shipping in select cities across the country in December, Flipkart introduced a 'Same-day Guarantee' delivery service in select cities.
It's worth mentioning that Amazon.in, Amazon's Indian online store, had launched the 'guaranteed one-day delivery' offer first for few select Indian cities, at an extra charge last year. However, Amazon India is yet to announce an annual subscription service for the Indian market.
Snapdeal, following the lead of Amazon India and Flipkart, introduced its version of guaranteed same-day shipping, called 'Express Delivery' in January this year.
Affiliate links may be automatically generated - see our ethics statement for details.