Mozilla has updated its Firefox browser for Windows, Mac, Linux and Android on Tuesday, bringing it to version 29. The firm claims the updated browser is the 'most customisable Firefox ever' with an 'elegant new design'.
The latest Firefox 29 update for Windows, Mac and Linux brings 'sleek new tabs and an overall modern look,' with a greater highlight on the current tab that sees other tabs fading in the background for less distraction. Other changes include a redesigned and customisable Firefox menu, which opens up as a pane on the right side, features all the controls in one place, and lets users add or edit features, add-ons and tools. The update also allows users to easily access the Firefox Add-ons Manager via the menu pane.
These changes to the menu pane and the numerous customisation options are part of Mozilla's effort to offer a 'simplified main interface', which now instead of overwhelming users with features and options, provides the most-used options only, while giving users the ability to add what they require. The redesigned tab structure, and the menu now being located on the right side, notably makes it similar to Google's Chrome browser.
The biggest new change however, is the new and improved Firefox Sync service gives users the access to their 'Awesome Bar' browsing history along with saved passwords and bookmarks across desktop and mobile devices. The sync service can be experienced once the user has a Firefox Account.
Other changes described on the Firefox v29 release notes page for Windows, Mac, and Linux include an interactive onboarding tour to guide users through the new Firefox changes, a newly enabled Gamepad API, and the use of HTTPS for Yahoo Searches performed in en-US locale.
Describing the changes on the official Firefox blog, Mozilla said, "We reimagined and redesigned Firefox to reflect how you use the Web today and we are excited to introduce many features including an elegant and fun design, new menu, customization mode and an enhanced Firefox Sync service powered by Firefox Accounts."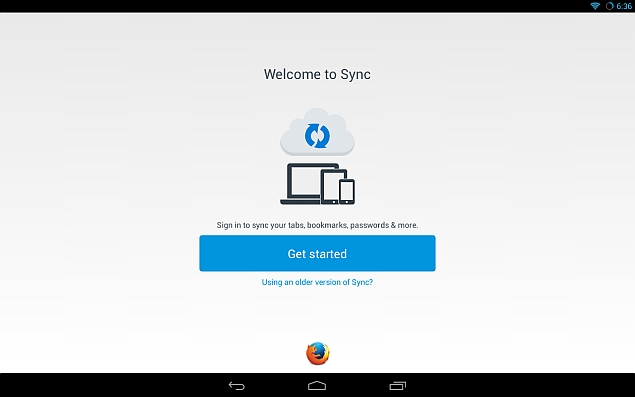 The update of Firefox for Android comes with the updated Sync functionality; the addition of multiple quick share buttons; new hide/Default panel options; search via Bing plugin when it is set as default, and better integration for Open Web Apps. The update also replaces the throbber with a progress bar, and removes ability to 'send tab' to a remote device. Some of the developer tools like Synthetic APKs, 'Box-sizing', SharedWorker, and CSS3 variables have also been included. The favicon.ico decoding has been now fixed.
The updated Firefox for Android browser can be downloaded via the Google Play app store, whilst the updated Firefox for Windows, Mac, and Linux browsers can be downloaded from Mozilla's page, or updated directly from within the browser for existing users.
Mozilla also unveiled some developer tools for its Firefox browser's desktop version.
-WebRTC: Firefox supports WebRTC, which enables video calls and file sharing between browsers.

-WebAPIs: There are now more than 30 Mozilla-pioneered WebAPIs, which unlock more functionality and features in the Web platform.

-asm.js and Emscripten: asm.js is a Mozilla-pioneered subset of JavaScript that can run at near-native speed for games and other performance-intensive applications. Specific asm.js optimizations in Firefox mean it currently runs asm.js-style code faster than any other browser. Using asm.js and Emscripten, we helped Epic Games and Unity add the Web as another export option to their hugely popular game engines without the need for plugins.

-Web Audio API: With Web Audio API, developers can now build robust audio engines capable of new features like positional audio and support for effects such as reverb, which can create immersive audio experiences on the Web, which is especially important for game developers.

-CSS Flexbox: The integration of CSS Flexbox in Firefox makes it easier for developers to build user interfaces that adapt to the size of the browser window or to create elastic layouts which adapt themselves to the font size. This is helpful when developers are trying to create a consistent user interface to their Website or Web app across desktop and mobile.

-App Manager: Brings the Firefox Web developer tools to mobile app developers, simplifying mobile Web app development with live prototyping and debugging of apps on Firefox OS phones directly from the desktop.

-Extension APIs: Developers using the Add-on SDK can now use the new button and toolbar APIs to easily integrate their add-on with Firefox's new customizable toolbar.