It has been just over a year since the Aam Aadmi Party formed the Delhi government in December 2013, and nearly as long since Arvind Kejriwal resigned as Chief Minister on February 14, 2014. If you're going to vote in the Delhi Assembly elections which will take place on February 7, then you probably still remember where you're supposed to go, but if you've forgotten then there's a very easy way to look up the location of the polling booth you're supposed to go to.
Mapping service MapmyIndia has launched a service called the Polling Booth Locator, which is a simple website where you can enter your details and see the location of the polling booth. The site is extremely easy to use, and worked fine on both desktop and mobile phones. Remember though that you're not supposed to carry your phone with you in to the polling booth, so if you're going alone, then look up the address and route before leaving home.
To use the app, you can look up your details with you voter ID. If you don't remember that, just your name and your father's name is enough to look up the details you need. Or, you can check the location of all polling booths in your locality, and then cross-check this list with your name, to see where you have to vote.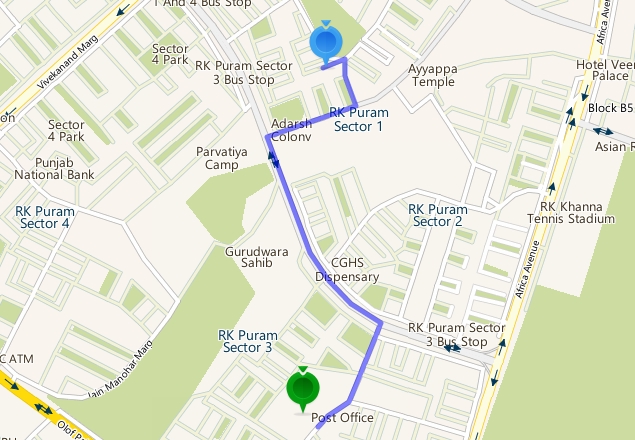 The search quickly throws up all your details - your voter ID, gender, age, address and your serial and part number on the rolls. There's only one button you can press at this point, which shows the directions to the polling booth.
You'll see a detailed map that is supposed to give you the directions from your doorstep to the polling booth. This worked well, for the most part. We tried with a number of different people's details, and the map was accurate. When checking the site, one voter's address in Mayur Vihar showed correctly on the details page, but was in the wrong place on the map. We tried this with three other people though, and got correct results. The issue is probably with the way addresses in the CGHS apartments in Mayur Vihar are written, because we got the same issue with three other people in the same area.
The site is a good idea, but there are a couple of issues. For one thing, we find it hard to believe that anyone who voted in 2013 would need a reminder about the location so soon. Meanwhile, if you've moved recently, and now vote in a different constituency, or if you're a first time voter, then this site is not going to be much use. That's because it uses the voter data from the 2013 electoral roll to look up your address and polling booth, so if you weren't on the rolls then, or if your details have changed, the information here will be incorrect.
If your old data is still correct and you need a reminder on where to vote then check the site out, and remember to go vote on Saturday.