Online travel portal Cleartrip has launched, Waytogo, an online route finder that allows users to search for routes from one point to another across all forms of transport, globally.
According to Cleartrip,
Waytogo
covers over 5 trillion routes, 2.5 million places, 670 airlines and 600 ground transportation providers (trains, buses, local transit, ferries, etc.) worldwide. Waytogo also offers local transit data for New Delhi, Mumbai and Bangalore, assisting users plan intra-city commutes and weekend getaways. Cleartrip has partnered with Melbourne-based company Rome2rio to offer this feature.
Waytogo enables users to map different routes to their destinations, compare durations of travel, modes of transport and indicative prices. It also allows users to compare different routes on a map and select the cheapest or the most convenient route.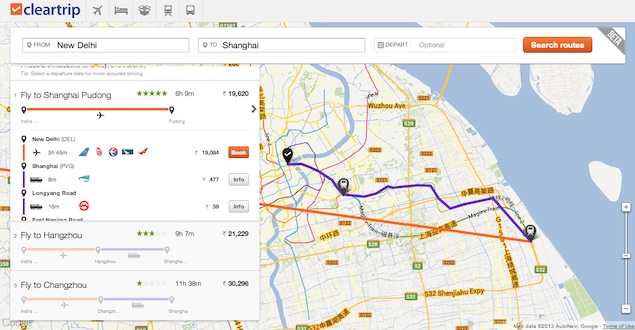 One interesting bit about the service is that it's not limited to cities alone, but you can directly specify areas and even points of interests within a city, For example, look for a route from
Qutub Minar to Eiffel Tower
and Waytogo will give you a route with all the options, including those for travel within Delhi and Paris.
Users who're worried about the environment, can even choose the 'greenest' route to their destination with the help of an indicative 'green star rating' alongside each route.
According to Cleartrip, Waytogo calculates routes keeping in consideration, flight and train timings and local transit schedules.
The Waytogo service also allows Cleartrip users to book their travel directly from the route option itself, in one single window. The route finder also offers a link to the transport provider's website, if direct booking is not available.
The Waytogo service offers a simple user interface requiring users to enter originating and final destinations, while entering the departure date is optional. After clicking the search button, the service offers route options in a card-like form on the right, with the route map on the left hand side. Users can filter routes according to Greenest, Fastest and Cheapest category options.
We tried searching routes for intra-city travel and found that the service offered transit options including Delhi Metro routes. However, we observed that it doesn't cover intra-city bus routes in Delhi.
We were also able to search International and domestic routes, with the utility offering multiple travel options.
MakeMyTrip also offer similar online utility called Router Planner though it's limited to places in India.
Affiliate links may be automatically generated - see our ethics statement for details.