Google and Facebook have launched resources to help with the relief efforts in Chennai, which due to incessant rains has been hit by floods.

The two tech firms mobilised their crisis response modules to Chennai floods, as many parts of the city continue to be water logged, with rescue operations under way.
Facebook has activated its Safety Check feature for Chennai, which lets users mark themselves as safe as a means to notify friends and loved ones.

(Also see: Telcos Offer Free Calls, Data to Subscribers in Flood-Hit Chennai)

The social network had in the past been criticised for being selective in activating Safety Check, with outrage being expressed after it unusually activated the feature following the Paris terrorist attacks last month. Facebook usually activates the feature, which allows users to mark themselves as safe, after natural disasters, but not bombings or attacks. The company heeded the criticism, and activated the feature for the recent Nigeria blasts as well.
(Also read: Here Are Some Startups Helping Out With Chennai Floods)
Google
has published a
crisis response
page, with resources such as links to emergency helpline numbers, aggregating data on relief centres, and crowdsourced maps that mark out water logged roads and streets with slow traffic.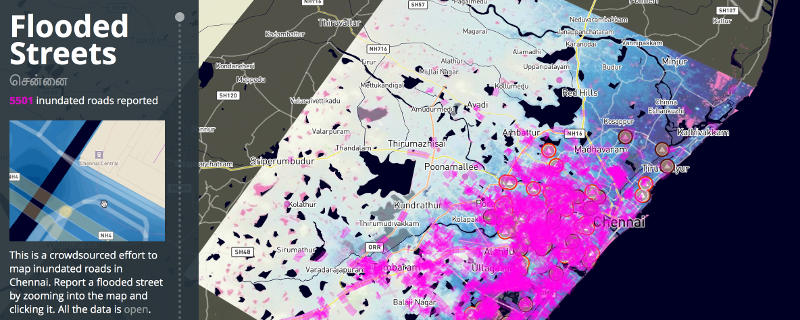 Arun Ganesh, a data mapping specialist at Mapbox published crowdsourced data on streets reported as flooded by Chennai residents. The map is currently reporting 5,541 inundated roads at the time of writing.
Tech startups and telecom companies pledged help out with the relief efforts in Chennai on Wednesday by offering food and other relief supplies, free calling minutes, helplines and information on medical assistance.
State-run BSNL will not be not billing Chennai residents for a week, and has given an extension for payment of monthly bills. Bharti Airtel, Reliance Communications, and Vodafone have all offered free prepaid credit and mobile data.